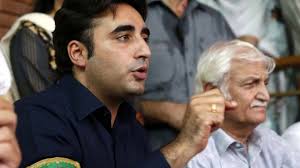 Karachi: Pakistan Peoples Party (PPP) Chairman Bilawal Bhutto Zardari Thursday declared July 25 as darkest
day in the history of Pakistan and said that the Parliament and democracy are being targeted today and they
must work together to save the future for the children of Pakistan.
Addressing a rally of the joint opposition in Karachi, Bilawal Bhutto asserted that the Federal is economically
murdering all the provinces as youth were being targeted by lack of employment. The whole country is going through an economic crisis, he added. "The Pakistanis are suffering due to incompetency of the Prime Minister Imran Khan", he continued.
Bilawal went on to say that awareness against the puppet and the 'selected' government should be spread. He expressed that Pakistan's democracy is in danger today and attacks on the Federal are being carried out. No single political party can solve the problems alone. "Our own political parties have their own declaration, but we are united to protect democratic, human and economic rights of the country", he added.
The joint opposition on Thursday inserved 'Youm-e-Siah' – the black day, by holding rallies across Pakistan,
whereas the ruling Pakistan Tehreek-e-Insaf (PTI) marked Youm-e-Tashakur' – the thanksgiving day, to
commemorate party's victory in the General Elections, 2018.