Top political adviser stresses right approach to ethnic affairs with Chinese characteristics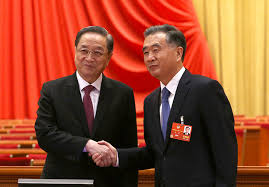 Beijing: China's top political adviser Wang Yang on Thursday stressed resolute adherence to the right approach with Chinese characteristics to handle the country's ethnic affairs, to further motivate people of all ethnic groups to work hard together.
Wang, a member of the Standing Committee of the Political Bureau of the Communist Party of China Central Committee and chairman of the Chinese People's Political Consultative Conference National Committee, made the remarks at a symposium on the innovation and development of the country's work on ethnic affairs.
Acknowledging the progress China has made in its ethnic affairs over the 70 years since the founding of the People's Republic of China, Wang said it has proved that the Party's ethnic affairs policies and theories are
correct, and the same can be said for the approach with Chinese characteristics to deal with ethnic affairs.
As the tasks become weightier and the requirements become more demanding in the cause of ethnic unity and progress, innovation should be made in the methods to enhance ethnic unity, support faster development in areas with mainly ethnic minority populations, and better serve and manage the migrants of ethnic minorities, Wang said.
He also called for innovation in the methods to protect the fine traditional culture of ethnic minorities and
deal with people of ethnic minorities with religious beliefs, as well as to innovate the mechanism and
operation mode of the work on ethnic affairs.