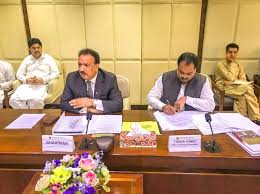 Islamabad: Chairman Senate Standing Committee on Interior Senator A. Rehman Malik has taken a serious notice of the non-availability of the HIV/AIDS testing kits and vaccines in the hospitals and laboratories of
Islamabad Capital Territory.
He has asked the Chief Commissioner, Islamabad to submit a detailed report about the non-availability of
anti-HIV/AIDS vaccines and its testing kits in ICT Hospitals and also inform the Committee about the
availability of anti-rabies and anti-snake vaccines, especially in the moon-soon season.
He has also asked the Chief Commissioner to present a report if there is any existing law that covers the
HIV/AIDS patients, their rehabilitation, their treatment and counseling, once they are diagnosed with HIV/AIDS.
He said that the Senate Standing Committee on Interior had already taken the proposal by Senator Azam Khan
Swati who suggested amendments in the Criminal Code of Procedure (CrPc), with punishment of 10 years imprisonment in cases of unsafe blood transfusions, and a five-year jail term in cases of adulteration of drugs, and two years imprisonment for adulteration of foods and beverages.