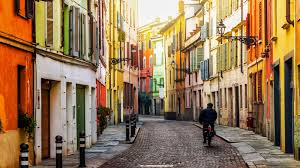 Milan: Parma, a central city to the valley, is only an hour from either Bologna or Milan airport and is still a hidden joy for most Brits.
Yes, it gets very hot in August and very cool in January but the other ten months are divine and it's never crowded so there are none of the queues you can get elsewhere in Italy and mercifully no sign of any selfie-
sticks.
Next year, in 2020, Parma is due to enjoy its role as Italy's Capital of Culture in which it will host a multitude of concerts and exhibitions from next July to December.
Much will doubtless be made of the Teatro Regio, the opera house with a 1400 seat auditorium adorned with
four tiers of gilded boxes and a gallery above. It's considered by cognoscenti to be one of the true homes of the great Italian tradition and where ample voice is given both in approval and disapproval of the performances.
Hotel Palazzo Dalla Rosa Prati Celadon Shutters.
While in Parma I stayed at the Hotel Palazzo Dalla Rosa Prati.
It's fantastically situated opposite the Baptistery, bang in the city center and in walking distance of all the
sites. I arrived late at night into the calm and clear cathedral piazza and got a glimpse of the delights to come.
The rooms have been converted into hotel rooms and apartments along with its own café (T Café) and even a
shop offering Parma's local produce of ham, cheese and olive oil presented beautifully in bottles resembling
flasks of scent.
By lunchtime the café had become a restaurant where I sat outside to savour a fine menu consisting of a mixed
salad of pears, walnuts, and cheese, followed by sea bass fillet with cherry tomatoes and olives drunk with a
glass of fizzy 'Quarticello Despina' and rounded off with their delicious 'torte del Giorno' ('cake of the day').
That night, on the street behind the hotel, I ate at the restaurant Borgo, on one of its tables that spilled out
onto the street. Unlike the many, knocking back their Aperol spritzers which are all the rage across Europe, I
was determined to explore the local fayre and drunk 'Terraviva Trebbiano d'Abruzzo' wine to accompany my 'garganelli pasta with shrimps, tomatoes and garlic oil and pepper, along with a delicious plate of raw
vegetables.
It's one of their many tailor-made tours and daily experiences and, in minutes, it took me out of the city into the countryside and her fabled valley. It was a truly authentic and informative tour as I got to see the whole
food process from 'farmyard to table'.
I had come to witness the process by which they make 'Parmigiano Reggiano' the official name for the hard,
granular cheese we call Parmesan. It takes 200 cows to make 12 wheels a day. Looking at it another way, it
takes 14 liters of milk to make just 1 kilo of Parmigiano Reggiano and 550 liters to make one wheel. Each
wheel can sell for a minimum of 1000 euro (once it's granted its certification mark) and so secure is it as a
product that the local banks are happy to allow it to act as banking collateral.
The other principal pride and joy of the region is their salumi and, in particular, their 'Culatello di Zibello'.
It's made from pigs' buttocks. Culatello is best to eat with a glass of Lambrusco as the sparkling wine cleans
the palette and helps the digestion. Keeping up with local tradition the tour toasted our health by serving wine poured into a white bowl held down with the thumb before the celebrations have begun.
I highly recommend staying, as I did, at the Antica Corte Pallavicina. It's a 13th-century castle that once oversaw the trade passing the adjoining River Po. It opened in 2010 as a restaurant and a year later as a hotel.
In front of the building, designed in the French style, there's a lovely vegetable and fruit garden from which
the vast majority of the restaurant's produce is picked.
The restaurant truly was a 1 Star Michelin experience. As other guests arrived, I could sense that they felt
they were going to enjoy something very special. I certainly had the most wonderful of dinners outside with a pink setting sun filling the whole sky in preparation for the stars to come out like the final act of a play. It doesn't get much better than that.
Chef Massimo Spigaroli, eager to promote the 'gastronomic culture of my homeland' as his poem in his menu declares, provided his podium of culatello from 'white pig' served with homemade mixed vegetables, followed by pastry pockets filled with codfish on bisque with lemon zests and marinated sweet water shrimps. The champagne was Steinbruck Brut and the dessert was 'a different texture and temperatures of chocolate' consisting of 'double chocolate' 'chocolate mousse' and 'chocolate ice cream' with a 'Vin Santo Occhio di Pernice 2010 Silvio Nadri' as my pudding wine.
It's full of locals (always a good sign) and seats as many as eighty. The restaurant goes back to 1780 and has
stayed in the family for six generations. The current incumbent chef is Enrico Bergonzi who was highly
creative and theatrical, employing his very own light show by applying lemon to a beetroot dye to turn the
sauce from a midnight blue into a pinky-orange. A fitting end to much tagliatelle and Tortelli introduced by some 'Tenimenti Civa' Prosecco followed by 'Monte delle Vigne' Malvasia 2018 wine. For a final act of
sophistication, I loved the ritual whereby my tablecloth is treated to a 'raccogli-briciole', or what we English call more prosaically a crumber.
It's a fresh and well-kept hotel and ideal for young families. It has the entrance to the Rocca yards away from one way and a Wine Museum and a handy delicatessen-cum-café the other while the peaceful village of Sala
Baganza is still in walking distance. Within the hotel's premises is where I had dinner my last night at Les Caves.
It's as fun to eat outside in the country air as within where stylish furnishing and creative artifacts bedeck a
vast airy space that steadily reached full occupancy across the evening.
The chef Maria Amalia Anedda concocted a delicious dinner with a glorious antipasto of Prosciutto Crudo di
Parma, a fresh spaghetti with gingery zucchini cream, clams and bottarga (cured mullet roe) and passion fruit,
peach, and rosemary almond crumble dessert. All drunk with some 2016 Vigne Della Bra Filippi.
I always wanted to discover some of the secrets behind how the Italians make such delicious meals out of sometimes the most basic ingredients. Now at least I have an inkling. You will have to go on your own voyage of discovery.