China confident of keeping yuan stable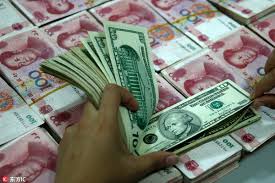 Beijing: China's central bank reiterated on Monday that it is confident in its capability of keeping the yuan's
exchange rate basically stable, after both the onshore and offshore yuan fell beyond seven against the U.S. dollar.
The People's Bank of China (PBOC) attributed the weakening of the currency beyond 7 yuan per U.S. dollar on Monday to factors including unilateral and protectionist measures, as well as the expectation of additional tariffs on Chinese goods, according to an online statement.
The U.S. threat of imposing an additional 10 percent tariff on 300 billion dollars worth of Chinese goods
starting Sept. 1 disrupted market expectations, causing global stock and foreign exchange markets to slump,
said Zhang Yansheng, a researcher with the China Center for International Economic Exchanges.
"China is the victim of U.S. trade bullying," he added.
Wang Youxin, a researcher with the international financial research institute under the Bank of China,
regarded the yuan devaluation as a normal response to external changes.
"The additional tariff hikes on Chinese goods will undoubtedly bring shocks to China's exports and forex
revenue. Thus, it is in line with expectations that the yuan's exchange rate fluctuates in accordance with
external changes," Wang said.
Despite recent weakening, the yuan has strengthened 20 percent against the dollar over the past two decades,
the strongest among major currencies in the world.
The yuan remained basically stable and strong against a basket of currencies, with the China Foreign
Exchange Trade System yuan exchange rate composite index up 0.3 percent since the beginning of the year.
Although the yuan's central parity rate had weakened about 0.53 percent against the dollar by Friday, its
depreciation was much smaller than those of the Korean won, the Argentine peso and the Turkish lira.
"Seven is just a number. It is normal to rise and fall," said Bai Ming, deputy director of the International
Market Research Department under the Ministry of Commerce.
"The PBOC has the experience, confidence and capability necessary to keep the yuan's exchange rate
basically stable at a reasonable and balanced level," the statement said.
The yuan's exchange rate is determined by long-term economic fundamentals, although it is affected by the
market supply and demand as well as the dollar's movement in the short term.
From the macro perspective, the yuan's exchange rate is buoyed by the country's sound fundamentals, strong
economic resilience, stable fiscal position, controllable financial risks, balanced cross-border capital movement and sufficient foreign exchange reserves.
The central bank said China is likely to become a hot spot for global capital, as the country is the only major
economy that keeps normal monetary policy while many developed economies have loosened their monetary policies.
The central bank has accumulated considerable experience and policy tools in coping with exchange rate fluctuations, and will continue to innovate and improve its toolkit, crack down on short-term speculation and stabilize market expectations in the future, according to the statement.