Bilawal asks Imran Khan to show leadership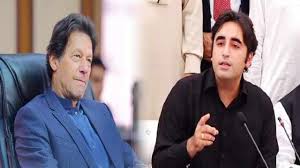 Islamabad: Chairman Pakistan People's Party (PPP) Bilawal Bhutto Zardari has asked Prime Minister Imran
Khan to rise to the occasion and provide leadership for the Kashmir cause instead of only one tweet and speech in the National Assembly.
Speaking in the National Assembly, he said that it is unfortunate that Speaker of the House was unable to
complete the House as former Prime Minister Shahid Khaqan Abbasi, PML-N leader Rana Sanaullah and two
representatives from South and North Waziristan are absent even today. Similarly, the House was incomplete
on the occasion when the budget was presented in the Parliament.
Addressing the Kashmir issues he said that India has been using cluster bombs on innocent Kashmiris,
educational institutions are closed, every kind of communication has been cut off, extra Indian troops have
been sent to Kashmir and all the known political leaders have been arrested. The revoking of article 370 of the Indian constitution is an attack on the ideology of India, UN and international laws, democracy and the right of self determination of Kashmiri people. This opens the door to make Kashmiris a minority in their own land.
This will not be accepted by the Kashmiri people, we the Pakistanis and the people of India should also follow suit in rejecting this treacherous act.
Shaheed Zulfikar Ali Bhutto is renowned for fighting for the Kashmir cause as he had said that we share
history, geography, religion, blood and culture with the Kashmiri people. We will not remain silent at the time
when Kashmiri brothers and sisters are calling us for help. It is unfortunate that PM Imran Khan did not give
any policy statement in the House and the foreign minister is not even in the country.
Chairman PPP said that Prime Minister Modi is an extremist ruler who is the butcher of Gujrat and now
occupies the post of Indian Prime Minister. He asked that if Pakistan had ever elected an extremist Prime
Minister like Modi then would have India welcomed it? India has become an occupying force in Kashmir.
Modi's mandate is a hate mandate, he has been inflicting harm on Kashmiri people for the last five years and it is ironic that our PM Imran Khan was hoping and praying for his re-election. Modi has arrested the entire Kashmir leadership because every Kashmiri considers India's act as illegal and the former Chief Minister of Kashmir Mehbooba Mufti has said that the day India revoked article 370 is the darkest day of Indian democracy.
Bilawal Bhutto Zardari asked Pakistani government to take drastic diplomatic actions and must engage United
Nations and demand for a special session of OIC so that we can demonstrate that every Muslim country is
united on Kashmir issue. He said that a commission should be constituted to investigate human rights
violations in Kashmir. He also asked international community to take notice of Indian action.
Chairman PPP said Simla Agreement says that no side will take unilateral action. PPP hopes that Pakistani
PM will put forward the case of Kashmir at all international forums but unfortunately, the government is just boasting the photo session of the US visit and is busy in crushing the Opposition. He said that we stand at the crossroads of history. The history will ask us where we were when Kashmiri youth were showered with pellet guns and bombed with cluster bombs.
We have only two options left now, Chairman Bilawal stated. Either to accept aggressive, treacherous and
extremist Modi's hegemony desert our Kashmiri brethren and live a life of humiliation or to rise to the
occasion and reject Modi's ideology. The latter is the honorable option, he said. Pakistan must act wisely as
India has lost its credibility and legitimacy as a democratic state by revoking article 370. We have to speak as one voice, Pakistani voice. We must shun all our differences and unite for our Kashmiri brethren. We had a PM who had said that we will fight for ten thousand years for Kashmir cause, he concluded.