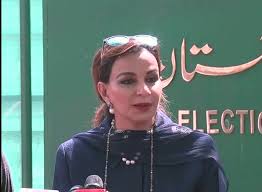 Islamabad: "What happened on 5th August in India must be read by its true label, which is neo fascism.
Article 370 was irrelevant to us, as we never accepted the accession of Kashmir, but we must use everything in our power to make known the illegal and forcible annexation that India has carried out in Kashmir this week.
We must continue to seek peace, but learn to manage our interests as well. If the centre cannot coordinate our policy stances, then it is the responsibility of the policy community to step up and provide a list of foreign policy options on Kashmir and the region, stated Senator Sherry Rehman in her keynote address on the second day of Ideas Conclave organized by Jinnah Institute.
The day opened with a discussion on regional geopolitics in a session titled Cold War Lite: History's Shadow on Today's Chessboard with former Foreign Secretaries Jalil Abbas Jilani and Tehmina Janjua, former federal minister Khurram Dastgir and the Chinese Ambassador Yao Jing. Speakers stated that Pakistan needs to build a deeper strategic and military vision in consultation with China and our growing global challenges require us to expand this relationship. In a session titled From War to Exit Wounds in Afghanistan, former Foreign
Secretary Riaz Mohammad Khan and veteran journalists Zahid Hussain, Rahimullah Yusufzai and Meher Bokhari stated that the reconciliation process in Afghanistan was now irreversible, and any party that backs out will suffer the consequences.
This was followed by a session on recent developments in Kashmir. The panel discussion titled India,
Pakistan and Kashmir: Where Do We Stand included foreign policy practitioners Riaz Khokar, and Tariq
Fatemi, and academic Rabia Akhtar, and human rights advocate Ali Dayan Hasan. The panel rejected India's
repeal of Article 370, categorically declaring India's recent policy decisions as an annexation of Indian
Occupied Kashmir. India's actions in Kashmir constitute gross human rights violations, something that the
international community is deliberately ignoring. They noted that confrontation is not the way forward, but
the situation can get out of hand if there is any escalation. The panelists agreed that they do not see a
normalization process possible after these recent developments.
Ideas Conclave is Jinnah Institute's flagship think-fest hosted annually in Islamabad. The Conclave brings
together global thought leaders and international and regional decision makers to discuss contemporary themes relevant to Pakistan and South Asia. This year's conference's themes addressed regional security,
foreign policy, governance, human rights and democracy in moderated panel sessions.