Pakistan communicates concerns to the EU on Kashmir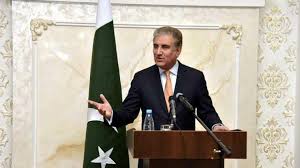 Islamabad: Pakistan has communicated its concerns to the European Union on the unilateral step of revocation
of special status of Kashmir by India, as part of wider outreach efforts.
Briefing media in Islamabad on Thursday, Foreign Minister Shah Mahmood Qureshi said he conveyed
Pakistan's concerns in a telephonic conversation with High Representative of the European Union for Foreign
Affairs and Security Policy Federica Mogherini this morning.
The Minister said he informed the EU Representative for Foreign Affairs that Pakistan will take the matter to
the UN Security Council.
He said he also briefed the EU official representing twenty-eight member bloc about the possible far reaching and dangerous consequences of the Indian act of revoking Article 370.
The Minister said the Indian External Affairs Minister S. Jaishankar had told the EU Representative for
Foreign Affairs that changing of status of Occupied Kashmir was their internal matter and the step was aimed at socio-economic development of the territory.
Shah Mehmood Qureshi said he apprised Federica Mogherini that this impression is totally wrong and
Pakistan rejects it out rightly. The Minister questioned what kind of development is this that the Indian
authorities have turned the held territory into a jail. India has stationed 900,000 troops and have taken the
entire population hostage.
Shah Mehmood Qureshi quoted former Indian Prime Minister Jawaharlal Nehru saying, he had declared
countless times that future of Kashmir will be decided by goodwill and pleasure of Kashmiri people.
Shah Mahmood Qureshi said Federica Mogherini expressed the UE concern over escalating tensions in the region and also the European bloc's desire for dialogue to resolve the Kashmir issue.
Foreign Minister said it was Indian act that escalated tensions and it New Delhi that always avoided talks to
resolve the issues between the two countries. He said any initiative by the EU for talks between Pakistan and
India will be welcomed.
The Foreign Minister said Pakistan stands by its commitment of opening of Kartarpur corridor. He clarified that Afghan trade will not be affected by Pakistan's decision to suspend trade with India.
He told a questioner that Pakistan is looking towards diplomatic and political options in this situation and not
military. However, it will take proper safeguards as vigilance in the wake of deployment of 900, 000 Indian
troops in the held valley.