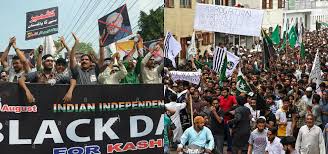 Islamabad: Pakistanis as well as Kashmiris on both sides of the Line of Control and all over the world observed Indian Independence Day as Black Day Thursday in protest against brutalities perpetrated by Indian forces in occupied Kashmir.
The decision to observe Black Day was taken at the meeting of National Security Committee chaired by Prime Minister Imran Khan after Indian government decision to abrogate Article 370 and 35 A.
Pakistan strongly rejected Indian unilateral decision to abolish special status for occupied Kashmir aimed at bringing structural change to disputed status of the territory.
National flag of Pakistan flown half-mast and black flags were hoisted on public buildings, roads to symbolize the protest against Indian illegal attempt to annex Jammu and Kashmir.
Protest rallies were taken out in all parts of the country, Azad Kashmir and Gilgit Baltistan to express solidarity with oppressed Kashmiri people.
The All Parties Hurriyat Conference Azad Jammu and Kashmir chapter organized a protest demonstration outside the Indian High Commission in Islamabad.
The participants of the demonstration expressed concern over the increasing Indian atrocities, illegal detentions and imposition of continued curfew by India in occupied Kashmir.They warned the Indian government to desist from suppressing the people of the territory through military might and other oppressive tactics.