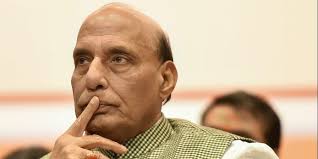 New Delhi: India's Defence Minister Rajnath Singh hinted on Friday that New Delhi might change its "no first use" policy on nuclear weapons, amid heightened tensions with fellow atomic power Pakistan.Indian Defence Minister Rajnath Singh made the comment on Twitter after visiting Pokhran, the site of India's nuclear tests in 1998 under then Indian Prime Minister Atal Vajpayee.
"Pokhran is the area which witnessed (Vajpayee's) firm resolve to make India a nuclear power and yet remain firmly committed to the doctrine of 'No First Use'," Singh wrote.
"India has strictly adhered to this doctrine. What happens in future depends on the circumstances," Singh tweeted. India committed in 1999 to not being the first to use nuclear weapons in any conflict.The statement comes as tensions rise with between both countries after Indian Prime Minister Narendra Modi's government stripped occupied Kashmir of its autonomy, a move condemned by the whole world.
The questions have arisen if India has threatened the UN before the Security Council meeting. Rajnath's statement hinted to a dangerous extremist thinking of India.
Singh's comments prompted considerable noise in both India and Pakistan, with Minister for Human Rights Shireen Mazari tweeting that India "need to stop lying".