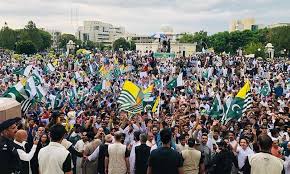 Islamabad: Pakistan Friday observed 'Kashmir Hour' from 12:00 PM to 12:30 PM in the wake of India's unprecedented lockdown, human rights' violations and atrocities in the disputed Himalayan region.
The Kashmir Hour was observed on the appeal of Prime Minister Imran Khan to hold an event every week till September 27 to show solidarity with the Kashmiri people.
Wirens were blared, traffic was halted and the national anthems of Pakistan and Kashmir were played to mark the 'Kashmir Hour' after a comprehensive plan was formulated by all deputy commissioners of the country for staging demonstrations
against India Prime Minister Narendra Modi-led Hindu nationalist Indian government's illegal actions and gross violations of human rights in Kashmir.
The premier led the demonstration. The provincial chief ministers, the governments of Azad Jammu and Kashmir and Gilgit-Baltistan headed the demonstrations in their respective areas.
While addressing the participants of 'Kashmir Hour' protest rally outside Prime Minister House in Islamabad, PM Imran Khan said that Pakistani nation is standing with the people of occupied Kashmir until its freedom from India.
In his speech, the premier said that eight million Kashmiris are facing fascist India's curfew from past 26 days with shortages of medicines and food. The time has come to free the valley from continuing Indian atrocities in the valley, he stated.
Imran Khan said Modi has occupied the Kashmir just like Nazis in Germany. Rashtriya Swayamsevak Sangh (RSS), inspired by Nazis, believes in not giving equal rights to the Muslims, he continued.
"They think Muslims should be taught a lesson that they are not equal citizens. Today, the whole world is seeing what is happening in Kashmir," he asserted.
The PM said that if India plans to take any action in Azad Jammu and Kashmir, "every brick will be countered with a stone."
President Dr Arif Alvi also addressed the participants of 'Kashmir Hour' rally on Friday and reiterated that Pakistan will support the people of India-occupied Kashmir (IoK) until they get their freedom.
The president affirmed that the entire nation is standing with the Kashmiris, and stressed that the whole Muslim world needs to raise voice for them against the Indian atrocities in the occupied valley.
The rights of the Kashmiris cannot be violated, and they will definitely get freedom if we stand together for them, Dr Arif Alvi declared. The president added he strongly believes that Kashmir will be freed during our lives.
Dr Arif Alvi said Pakistan will answer Indian propaganda at every forum. He mentioned that Muslims in India are facing
injustice in their own country. The president also stressed that we need a stronger Pakistan with a powerful economy to raise voice for Kashmir more effectively.
Local political leaders in their respective constituencies led protest rallies in which students and civil society participated in large numbers as Pakistani nation gave the entire world a strong message by expressing support to oppressed people of the occupied valley.
Federal Minister for Railways Sheikh Rashid said that Narendra Modi has committed a mistake by scrapping Article 370 that gave special status to the occupied Kashmir. The minister said Modi had thought that Kashmiri people are alone so he can do anything with this valley. He further stated that the nation will defend its country while standing with Pakistan Army.
Former Pakistan captain Shahid Afridi said Narendra Modi will be remembered as 'Hitler' when he dies. The star cricketer addressed a protest rally – held on Prime Minister Imran Khan's call to express solidarity with the people of Kashmir – at Mazar-e-Quaid and affirmed that Pakhtun community and tribal people are enough for Pakistan's defense if India wages war against us.
The 39-year-old – wearing army cap and shirt – said he is a soldier, has always highlighted the Kashmir issue and will continue to do so. My grandfather was given the title of the 'ghazi of Kashmir,' he said.
Narendra Modi has humiliated India across the globe, and Pak-India relations worsened after he assumed charge as premier.
The cricketer affirmed that Pakistanis are standing with Kashmir from Karachi to Khyber. He also urged the nation to always stay united instead of waiting for any such event which brings the people together for a common cause.
Chief Minister of Balochistan Jam Kamal Khan Alyani said that Pakistani nation stands with Kashmir and that we will come out of our houses on every Friday in support of the Kashmiris.
Deputy Speaker Qasim Suri urged the international community to come out in support of oppressed Kashmiri people against the fascist and racist policies of Modi. "Entire world is witnessing that Pakistan stands shoulder to shoulder with their Kashmiri brothers," he added.
Khyber Pakhtunkhwa Chief Minister Mahmood Khan has said that we have gathered for protest on the orders of Prime Minister (PM) Imran Khan to record voice against human rights violation in IOK. Will continue to fight for the freedom of the occupied valley, he stated.
Chairman of the Special Committee on Kashmir Syed Fakhar Imam said the UN Security Council's meeting is a clear proof that Kashmir is an internationally recognized disputed.
Sindh Governor Imran Ismail said that Indian government has unintentionally provided chance for the independence of Kashmir. This all was started by India but Pakistan will end it with the freedom of Kashmir, he stated.
Prime Minister's Adviser and Hajj Coordinator Shehzad Arbab vowed to cooperate with Kashmiris in their freedom movement. Let it be known that Imran Khan had on Thursday reiterated that he wanted all Pakistanis to come out on Friday to show solidarity with the people of India-occupied Kashmir (IoK).
He had urged all to give a clear message to the Kashmiris that the entire Pakistani nation stands with them and against Indian fascist oppression, the inhumane 24-day curfew, the daily injuring and killing of Kashmiri civilians including women and children – all part of the ethnic cleansing agenda of the Modi-government and its illegal annexation of IoK.
The plan to change demography of the occupied valley is a war crime under 4th Geneva Convention, the premier affirmed.
"We must send a strong message to Kashmiris that our nation stands resolutely behind them. So I am asking all Pakistanis for half an hour tomorrow stop whatever you are doing & come out on the road to show solidarity with the Kashmiri people," he concluded.
Effective measures are being taken for another big event on the Defence Day (Sept 6). The next meeting under PM Khan is expected to finalize the plan for that day.
It is worth mentioning here that while addressing the nation on Monday, Prime Minister Imran Khan had announced that an event will be held every week to show solidarity with the people of Kashmir.
"They (India) have played their trump card; they don't have any card to play now. Now whatever needs to be done will be done by us and the world," he had said as he took the nation into confidence on the government's strategy regarding Indian-occupied Kashmir. He said Pakistan's Kashmir policy was at a decisive point and he had apprised the world leaders about the plight of the eight million Kashmiri people in Jammu and Kashmir.
Prime Minister Imran will address the UN General Assembly on Sept 27 to highlight Indian atrocities in occupied Kashmir.
Tensions have soared between the nuclear-armed rivals in the wake of Prime Minister Narendra Modi's illegal move to strip India-occupied Kashmir of its autonomy and bring it under Delhi's direct rule, a private television channel reported.
The area is currently in its fourth week of a wide-ranging communications blackout with severe restrictions on movement.
Thousands of people have been incarcerated in the crackdown.
In the weeks since the move, Imran Khan has launched a wide-ranging diplomatic offensive to counter Delhi, while vowing to fight India "until the end" if attacked and making occasional references to the possible outbreak of nuclear conflict.
Kashmir has been divided between the two countries since independence, and has been the spark for two major wars and countless clashes between the arch-rivals.
In February, the rivals again came close to all-out war, after a militant attack in Indian-held Kashmir, igniting tit-for-tat air strikes — the first between nuclear-armed nations. Pakistan downed two Indian jets in an aerial dogfight of February
27 and captured an Indian pilot alive who was later released in a goodwill gesture.
The protests in Pakistan came a day after its military announced the testing of a surface-to-surface ballistic missile, with the army's spokesman saying the weapon was "capable of delivering multiple types of warheads".