Nafis Zakariya briefs UK MPs on Kashmir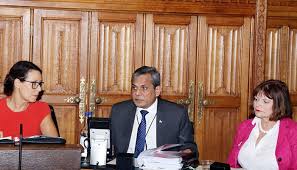 London: High Commissioner to United Kingdom Nafis Zakariya briefed British Parliamentarians at the House of Commons on humanitarian crisis in Occupied Kashmir in London.
In a closed meeting with a large number of UK Parliamentarians facilitated by the All-Party Parliamentary Group on Kashmir, he said continued human rights abuses in IOK are an affront to the conscience of humanity.
He emphasized that Indian governments' atrocities, such as mass killings, fake encounters, abductions, forced disappearances, use of prohibited weapons such as pellet guns and cluster munitions against the defenseless Kashmiris have caused incalculable sufferings to the Kashmiri nation.
He said these atrocities come under the ambit of crimes against humanity under all human rights and humanitarian conventions, statutes and United Nations resolutions.
The High commissioner urged an immediate and unconditional end to the bloodshed of Kashmiris in the IOK; delivery of justice to the victims; and, accountability of the perpetrators as demanded by international human rights bodies and NGOs of international repute.
The British Parliamentarians noted with concern the tragic situation of human rights as well as Indian government's blockade of the Indian Occupied Kashmir, which has led to severe humanitarian, political and security crisis in the occupied territory.
Acknowledging that the Kashmir Issue was an internationally recognized dispute awaiting implementation of UNSC resolutions, they agreed to continue to work towards ensuring alleviation of human sufferings faced by the Kashmiri people in the occupied valley.
Both sides agreed to build upon the conversation and charting a way forward to bring an end to the ongoing human tragedy.