Defence and Martyrs Day observed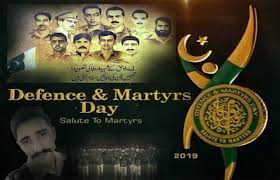 Islamabad: Defence and Martyrs Day was observed Friday to pay tributes to the martyrs and ghazis and reaffirm commitment to defend the motherland against all threats.
It was on this day in 1965 that the Indian forces crossed international border to attack Pakistan but the nation foiled nefarious designs of the enemy.
The Defence and Martyrs Day is also being observed as Kashmir Solidarity Day to reaffirm the support of Pakistani nation to the oppressed people of occupied Kashmir who have been under lockdown for over a month now.
Special prayers were being offered after fajr prayer in mosques for the progress and prosperity of the country and independence of occupied Kashmir from the cruel clutches of India.Main ceremony of the day was held at General Headquarters in Rawalpindi to pay tributes to the martyrs.
The offices throughout the country closed by 3pm to mark the day and show solidarity with the Kashmiri people. A special ceremony was held at Mazar-e-Iqbal in Lahore on the eve of Defence and Martyrs Day. A smartly turned out contingent of Pakistan Army presented guard of honour.
A change of guard ceremony was also held at mausoleum of Quaid-e-Azam Muhammad Ali Jinnah in Karachi.
A smartly turned out contingent of Pakistan Air Force Asghar Khan Academy assumed the guard duties. Air-Vice Marshal Hamid Rashid laid floral wreath on Mazar and offered Fateha.