Economic Watch: China cuts financial institutions' reserve ratios to boost lending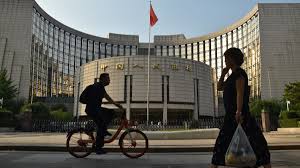 Beijjng: China's central bank announced Friday to cut the cash that lenders must hold as reserves, releasing about 900 billion yuan (127.12 billion U.S. dollars) of long-term liquidity to bolster the economy.
The People's Bank of China (PBOC) announced to cut the reserve requirement ratio (RRR) for financial institutions by 50 basis points from Sept. 16 to support the real economy and reduce the real cost of social financing.
About 800 billion yuan will be released from the broad-based RRR cut.
The PBOC also announced an additional 100 basis points reduction in the RRR for city commercial banks operating only in provincial administrative areas will be implemented in two phases, Oct. 15 and Nov. 15, cutting 50 basis points in each phase.
The targeted RRR cut will release 100 billion yuan, with aims to promote support for small and private enterprises.
The operation will not cover three kinds of financial institutions, namely finance companies, financial leasing companies and auto financing companies, whose RRR is 6 percent, the lowest among financial institutions, the central bank said on its website.
The PBOC stressed it will continue to implement a prudent monetary policy and will not engage in a deluge of strong stimulus policies, in order to create a suitable monetary and financial environment for high-quality development and supply-side structural reform.
The RRR cuts can hedge against the tax period in mid-September and thus the total amount of liquidity in the banking system will remain basically stable, according to the PBOC.
The RRR cuts can release liquidity, increasing the sources of funds for financial institutions to support the real economy and reducing the annual capital cost of banks by about 15 billion yuan, the PBOC said.
The additional targeted RRR cut can improve the policy framework for small and medium-sized banks to implement a lower RRR, which can help city commercial banks serving grassroots to increase support for small businesses and private enterprises, it said.
Wen Bin, chief analyst at China Minsheng Bank, said the combination of a broad-based RRR cut and a targeted RRR cut can ensure sufficient and reasonable market liquidity on the one hand, and guide capital to the real economy through targeted investment, on the other hand, especially to increase support for small businesses and private enterprises.
In the context of the resumption of monetary easing by central banks around the world, and in light of China's current macroeconomic operation, inflation level and business conditions, there is still room and need for the policy interest rate to be lowered, Wen said.
China will continue to implement a prudent monetary policy while carrying out anticipatory adjustments and fine-tuning, said a statement released after a State Council executive meeting Wednesday.
Policy tools such as overall and targeted RRR cuts will be taken in a prompt manner to encourage financial institutions to channel more capital into inclusive financing, enhancing support for the real economy, small and micro firms in particular, it said.