Worcester Park Blaze engulfs four-storey London block of flats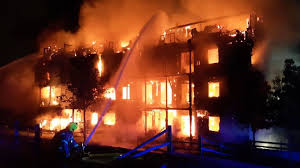 All four storeys of the block are ablaze about 125 firefighters are tackling a major blaze at a block of flats in south-west London.
The fire quickly spread to all four floors of the building in Sherbrooke Way, Worcester Park, after fire crews were called just before 01:30 BST.Some 20 fire engines were at the scene, the London Fire Brigade (LFB) said. The cause of the fire is not yet known and no injuries have been reported.The fire was under control at 06:30 but crews will remain there during the day.
London Fire Brigade described it as a "challenging" blaze to tackle.Dean Fowler, who lives with his family on the top floor of the building, said he was woken in the night by someone banging on his door."I then heard someone screaming 'there's a fire, get out', and I just got my boys and went," he said.He added he had only been living in the building for three weeks and had lost "everything" in the blaze, but "we're alive, we're breathing, that's all that matters".
The building is made up of 23 flats and based in The Hamptons estate, which was built on a former sewage treatment works.Residents from the block as well as other surrounding buildings have been taken to a nearby community centre.
One of those, Darren Nicholson, said he woke up to the sound of "crackling" and when he opened the curtains he "saw the flames and got myself and the family out".He said fire alarms were going off in the community areas but not in his own flat and he believed the blaze began "on the balconies".white smoke was still "billowing" from the building which had been left as a "shell".
Graham Adams, from London Fire Brigade, said: "This is a challenging fire and firefighters are working hard to bring the blaze under control."Firefighters will remain on scene for a number of hours and we would urge people to avoid the area if possible."
London Ambulance Service said: "We have not treated any patients, however we remain on the scene as a precaution."