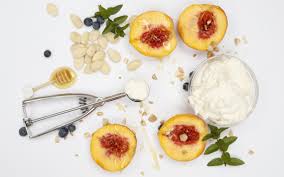 Rome: During the two weeks we spent last month in Sicily, Italy, we were blessed to enjoy several home-cooked meals prepared for us by various members of Tony's family.
Lunch is the largest meal of the day for Sicilians, and these celebratory luncheons included at least three courses of antipasti, pasta and meat, often with two or more Sicilian specialties per course.
Instead of serving a heavy dessert like gelato, tiramisu or cannoli (which we enjoyed daily, several hours later in the day), these feasts were always followed by a simple offering of fresh fruit.
Fresh peaches were in season during our stay, and after every lunch we would be presented with a bowl of beautiful Sicilian peaches of various size and color, including my favorite, a darling, almost-flat peach called the pesca tabacchiera ("snuffbox peach"). These quirky little peaches are grown along the slopes of Mount Etna, an active volcano located on Sicily's east coast, and were named for their resemblance to the round, flat snuffboxes used to hold tobacco.
With our days of large lunchtime feasts sadly behind us, we are happy to continue the custom of enjoying fresh fruit after a meal. This simple ritual is not only a lovely way to finish a meal but, like so many parts of Sicilian culture, it exists with intention, as fresh fruit helps to promote healthy digestion, especially after a large meal.
This week's recipe for Sicilian Grilled Peaches is a simple dessert inspired by our daily peach ritual, and features fresh peaches which are sliced in half, then grilled and topped with whipped mascarpone cream, honey and toasted almonds.
Mascarpone cheese is a luscious, soft Italian cheese like cream cheese in style, but since it is made with whole cream, it is richer and creamier in texture and flavor.
For this recipe, we whip the mascarpone cheese with heavy cream and vanilla extract to create a topping that is light, airy and the perfect balance to the sweetness of the peach and honey. Almonds were a natural fit for this recipe as they provide a bit of crunch and are grown in abundance throughout southeastern Sicily.
We had the opportunity to tour an almond processing plant in Rosolini, Sicily, during our visit, where the owners gifted us with two large bags of beautiful Sicilian almonds — one blanched, one whole — which I will be featuring soon in an upcoming recipe. For this recipe, I used the blanched variety for a contrast of color, but any kind of almond will work.
I may not get to enjoy my beloved tabacchiera peaches until we return to Sicily, but peach season is in full swing here in the Fargo-Moorhead area — and my next-favorite peach can be found with the arrival of Colorado peaches at the Fargo West Rotary Club's 26th annual Peach Sale next week, with proceeds benefiting local organizations. These hand-picked peaches are tree-ripened until large, round and juicy, which makes them perfect for this recipe.
Easy, delicious, elegant and, dare I say, quite Italian, these Sicilian Grilled Peaches are the perfect end-of-summer dessert and a terrific way to end a meal. Buon appetito!