Sherry Rehman concerened over govt's move against CEC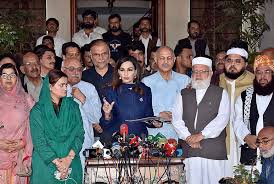 Islamabad: Senator Sherry Rehman expressed deep concern regarding the PTI government's move to file a reference against the Chief Election Commissioner Sardar Raza Khan.
"The government has already tried to unlawfully appoint ECP officials in both Sindh and Balochistan. Now they have initiated a move against the Chief Election Commissioner because he refused to administer the oath because of their unconstitutional appointment," said the PPP's Parliamentary leader in Senate, Senator Sherry Rehman. "It seems like the ghost of Shareefuddin Pirzada's past is guiding this government to its extra-constitutional ruin,"
"The government is setting a poor example of themselves by targeting Sardar Raza Khan whose only crime is that he upheld the sanctity of Pakistan's constitution. A prosperous country is known by its strong institutions, but this political targeting of opponents by the PTI government is ruining Pakistan's institutions. Is this the Naya Pakistan that we were promised, where our institutions are subject to the whims of the government?" questioned the Senator. "Pakistan's institutions do not belong to any political party, but to its people. They should not be compromised at the hands of this intiqaami government,"
"Pakistan's top judiciary has also expressed their reservations over the government's use of the National Accountability Bureau (NAB) to settle political scores. Chief Justice of Pakistan (CJP), Asif Saeed Khan Khosa has already expressed his concerns regarding the accountability process led by the incumbent government," reminded the Vice President of the PPP.
"Politically engineering the accountability process to only target their opponents is dangerous for Pakistan's democracy and we will register our protest at every step along the way,"
In light of the remarks made by the Federal Minister for Law and Justice, Farough Naseem, to make Karachi a separate administrative unit, she said "This PTI government is also attempting to split the province of Sindh and centralize power at the federal level. This move is against the spirit of the values enshrined in the 18th amendment and a threat to democratic processes in Pakistan. The PPP will oppose this move every step of the way and will make sure that no harm is brought to Pakistan's democracy," concluded the Senator.