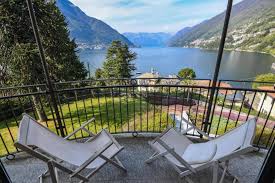 Milan: Lake Como is the most exclusive of Italy's great lakes, with a captivating elegance and an A-grade location.
Milan is 50 minutes away and both the Swiss ski resort of St Moritz and Portofino on the Italian Riviera are within two hours.
The lake has been largely protected from overbuilding and its beauty lies in the natural views.
Clusters of distinctive red-roofed houses in traditional villages are offset by the steep green landscape and reflective emerald waters.
"The first thing I ask buyers on Lake Como is whether they want morning sun or evening sun," says Cédric Roul of Knight Frank.
"Historically the sunnier west bank has been most in demand but the less explored east bank, with the evening sun, has many good areas. After that the typical wish list includes water views — essential for most buyers — proximity to a village to stroll in for a morning coffee or evening aperitivo, and, if there is direct access to the water, even better, though that's highly unlikely without a significant budget."
Lake Como has also been the region that has received most international interest following the introduction of Italy's new flat tax regime in 2017, says Roul.
This scheme allows anyone who has not lived in Italy for nine of the last 10 years to become a tax resident there and so pay a flat-rate tax of €100,000, or about £91,000 at the current exchange rate, on global income.
More than 150 high-net worth individuals applied for the scheme last year, according to the Ministry of the Economy.
Add in the current good value in the Italian property market helped by post-recession price falls averaging 40 per cent, the ever-alluring Italian lifestyle, good-quality housing stock and those exceptional views, and Lake Como ticks plenty of boxes.
Clemente Pignatti Morano, managing partner at Italy Sotheby's International Realty, says Lake Como appeals to families because it offers a relaxed and secure lifestyle with excellent schools and medical facilities.
"It is fashionable and certainly Italy's most in-demand lake. First royal families visited the lake from the 14th century, then celebrities arrived, including Versace and George Clooney, and they were followed by millionaires and then billionaires and now the rest of the world.
"Buyers typically want three-bedroom homes which in the first basin of the lake by Como Town would start from £546,000, at least 25 per cent more expensive than further north."
A five-minute walk from the lake on the east bank in Faggeto Lario, Knight Frank has homes from £150,000 for a 484sq ft studio and from £382,000 for a two-bedroom apartment. The development is a refurbishment of an old building and includes a communal pool and gardens.
On the opposite bank in Sala Comacina overlooking Comacina Island, 13 miles from Como Town, a partially furnished, spacious two-bedroom apartment is £514,000, also with Knight Frank.
Como Town at the southern end of the lake closest to Milan has a beautiful and historic Old Town, a regular covered market and a good selection of restaurants and shops for its 80,000 population.
A newly built three-bedroom apartment with terrace is £514,000 with Sotheby's while a three-bedroom villa close to the old city walls with lake views and private gardens is £537,000 with Knight Frank.
Lake Como is the deepest of Italy's three great northern lakes and everything from the mountains to the opulent renaissance villas seems super-sized.
Yet it's the calm serenity of the new five-star Mandarin Oriental Hotel on the eastern shore at Blevio, five minutes from Como Town, that best allows the beauty of the location to shine.
The Asian super-brand took over an existing hotel with gardens and 670ft of waterfront and lavished it with Fortuny textiles, Fromental wallpaper and Murano glass chandeliers.
Romantic and glamorous, there's a destination restaurant, a floating pontoon pool above the lake, a spa and a boat to speed guests across the water.