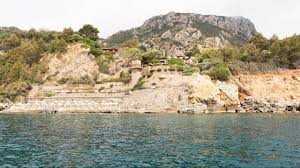 Rome: One of Italy's lesser known tourist spots, Monte Argentario is where the rich and famous come to hide.
A wilder version of the Côte d'Azur with less of the pretense and cheaper food, this southern Tuscan peninsula can only be reached by road, foot or bicycle.
Its ragged coastline is dotted with crumbling forts and towers built by the Spanish kings who ruled the area 400 years ago.
Located in the Maremma region, less than an hour and a half from Rome, Monte Argentario's most fascinating characteristic is its unusual geographic position.
It's linked to the mainland by three isthmuses, one a road cutting through a lagoon with flamingos, the other two pine-backed sandy beaches. The best place to begin a visit here is at the very top, from the lofty heights of the 18th century Frati Passionisti convent.
On a clear day, the view from the old convent takes in the whole of the Tuscan archipelago — Giglio, Montecristo and Elba and sometimes even Corsica in France.
Monte Argentario lies closer to the Eternal City than Florence, which is why it's so popular with the Rome elite, many of whom have second homes here.
In July and August, Argentario's beaches are packed with Romans, but it's a very quiet place during off-peak season.
With several shingle beach coves accessible only by foot, it feels more like a secluded Greek island, albeit for the cypress and umbrella pines that hide the luxury villas scattered across the promontory.