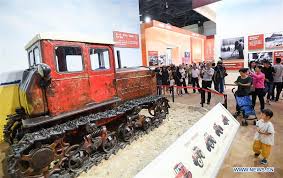 Beijing: A grand exhibition of achievements in commemoration of the 70th anniversary of the founding of the People's Republic of China (PRC) opened Monday at the Beijing Exhibition Center.
Premier Li Keqiang, also a member of the Standing Committee of the Political Bureau of the Communist Party of China (CPC) Central Committee, attended the opening ceremony and delivered a speech.
The exhibition comprehensively reflects the practices, achievements and experience of the past 70 years, which witnessed great improvements in the country's economy and people's living conditions, said Li.
It also records the continuous rise of China's international status and influence, as well as China's contribution to the cause of world peace and development, according to Li.
Noting that China remains the largest developing country in the world, Li called for more efforts to secure even greater victories in the future.
The country should work for high-quality development, comprehensively deepen reform, and build a market-oriented international business environment based on the rule of law, said Li, adding that it will implement a proactive policy of opening up to the outside world and promote economic globalization.
The opening ceremony was presided over by Wang Huning, a member of the Standing Committee of the Political Bureau of the CPC Central Committee and a member of the Secretariat of the CPC Central Committee.