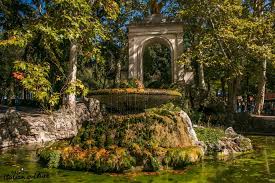 Rome: With cooler weather and fewer crowds, autumn is a great time to travel to Italy. You'll never lack for things to see and do in this country, but here are ideas for special travel experiences during the fall season.
GENOA: Don't miss the Rolli Days (October 12, 13), when many of Genoa's aristocratic palaces will be open to the public, some only for the event, or even for the first time. The Palazzi dei Rolli were those grand dwellings built typically in the 1500s and 1600s by the local nobility which became part the rolli, or lists, of fine dwellings approved by the government for foreign dignitaries to stay. The magnificent palazzi, centered in the oldest quarters of Genoa, on view during Rolli Days include the richly frescoed piano nobile of the Palazzo Spinola Doria, site of the Genoa club, "Circolo Artistico Tunnel" (Giuseppe Verdi was a member); and Palazzo Spinola Franzone, noted for its decorated facade and Baroque style. Hotel packages are now being offered to take advantage of the event with stays in historic residences, along with specially curated tours. (Rolli Days also occur in May, and Rolli palaces, like the Palazzo Bianco and Palazzo Rosso, can be visited throughout the year.)
PARMA: Named Culture Capital of Italy for 2020, Parma will no doubt see an influx of visitors in prime vacation months next year, so now's the time get here before everyone else does. While November can bring on chillier temps and fog, there's plenty to see, do and eat–indoors! The Verdi Festival (composer Giuseppe Verdi came from a nearby hamlet) runs until October 29 with opera extravaganzas Aida and Nabucco on the program. At any time you can check out the city's Galleria Nazionale, which houses major art by Leonardo Da Vinci, El Greco and Tintoretto. Of course, there are great local specialties like Parmigiano-Reggiano and prosciutto di Parma to sample, and the city's Michelin-star restaurants like Parizzi, which also has a cooking school, and Inkiostro to try.
VENICE: There's an overwhelming abundance of great art in Venice, but two new exhibits that will take you on a fascinating trip through centuries of art history shouldn't be missed. "Titian to Rubens: Masterpieces from Antwerp and other Flemish Collections" (running until March 1, 2020), now showcased in the rooms of the Doge's apartment in the Palazzo Ducale, includes canvases that are rarely or have never been shown in public. Among the artwork on view is the so-called David Bowie Tintoretto, the St. Catherine altarpiece, which the famous performer had in his collection until his death.
A short vaporetto ride away is "Peggy Guggenheim: The Last Dogaressa" at the Palazzo Venier dei Leoni, once Guggenheim's home, on the Grand Canal. Highlighting 60 pieces from the collection of the noted American arts patron, who took up residence in Venice in 1949 and remained an important cultural force in the city and in international art markets until her death in 1979, the exhibit includes art by René Magritte, Francis Bacon and Marina Appolonio. Guggenheim's scrapbooks, never displayed before, are also part of the show, which runs until January 27, 2020.
Most visitors to Venice rightfully focus on its art and architecture, but a special and relevant way to experience the city is with music. La Serenissima was once known as the "Republic of Music," with the art form flourishing here during Renaissance and Baroque eras. If you want to experience a concert in an unforgettable setting, check out Music In Venice—among the offerings are a chamber music concert in the lavish Ca' Zenobio, and opera performances in the Palazzo Barbarigo Minotto.
ROME: Go to a concert at Italy's equivalent of the White House, the Palazzo Quirinale. Although the Italian president has three official residences, the Quirinale is the best known and the only spot in the heart of Rome. Concerts are held on Sundays in the late morning in the majestic Pauline Chapel (Cappella Paolina). Tickets are free, but must be reserved in advance (and you need to pitch up no later than 50 minutes before the concert begins.) After the concert or at other times you can tour the Quirinale and its gardens (bookings are required a minimum of five days in advance).
Beat the crowds and make a memorable night visit to the Vatican Museums and Sistine Chapel. Nocturnal tours take place every Friday through the end of October (each year they typically begin in April), last from 7 to 11 PM, and include a concert that starts at 8 PM. Open and guided tours for individuals and groups are available. For more information: Vatican Museums by Night.
FLORENCE: If you want to experience Florence and Tuscany in distinctly authentic ways, have a look at the curated offerings of Tuscany Again, a luxury travel company developed by Leondardo Ferragamo of the famed fashion company (he is Tuscany Again's honorary president) and launched late last year so that travelers could see and get to know the region as long-time residents do. Programs include tours to explore the city's secret places and to discover the how-to's of top Florentine artisans; special outings where you can horseback ride in the Maremma or take a culinary class in a Tuscan farmhouse where you learn to cook the wild edible plants you've just foraged in the countryside with an expert botanist; and visits that will acquaint you with a lesser-known aspect of the region's renowned wine culture, stopping by the vineyards producing white wines from the area's indigenous grapes.
NAPLES: "Napoli, Napoli: Of Lava, Porcelain and Music" at the Museo e Real Bosco di Capodimonte will allow visitors to make an imaginary trip back to the 18th century, a time when Naples was a kingdom, and to see the visual richness of the settings of its royal court, through special stagings and mannequins in period costumes from the city's opera house, Teatro di San Carlo. (The set design is by French scenographer and artist, Hubert le Gall.). Music from the period will be available via headphones used when visiting the exhibit in the Royal Apartment's rooms. Some 300 porcelain objects from the Royal Factories of Capodimonte and Naples are also in the show, which runs until June 21, 2020.
Throughout Italy, October 12 and 13: Twice a year, FAI (Fonde Ambiente Italiano), dedicated to preserving historic Italian landmarks, oversees a cultural extravaganza, where 700 places in 260 cities, many of which can't be visited at other times of the year, are open.
If you can't make the October event you can still visit FAI properties throughout Italy, like the Abbey of San Fruttuoso near Camogli in Liguria, or the Art Deco masterpiece, Villa Necchi Campilglio in Milan (famously used in the Luca Guadagnino film, "I Am Love"); or take part in special tours and events like having dinner at Villa del Balbianello in Lake Como.