Netizens pay tribute to Chairman Mao on 127th birthday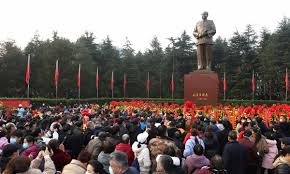 Global Times
Beijing: Chinese netizens paid tribute to Chairman Mao Zedong by activities such as posting his poems on Saturday, the 127th anniversary of the birth of late Chinese leader, after China completed a successful moon-probe mission earlier this month.
His 1965 poem Reascending jinggangshan was widely cited in the tributes, as the words say "We can bring down the moon from the ninth heaven, or catch the giant turtles in the sea, and come back amid triumphant songs in high glee," echoing China's recent Chang'e-5 mission.
China's space industry could not have made today's achievements if it were not for chairman Mao's great vision and passion marked by his approval of developing the country's first satellite, Zhou Jianping, chief designer of China's manned space program, told the Global Times.
Even when China was in dire economic situation in the 1960s, Chinese leaders, including Mao, were determined to develop "Two Bombs, One satellite." "Two Bombs" refers to the atomic bomb (and later the hydrogen bomb) and the ICBM, while "One Satellite" refers to the artificial satellite. His strategic vision greatly boosted the industrial development of China, Zhou noted.
The reentry capsule of the Shenzhou-10 manned spacecraft, launched in 2013, was handed over to Shaoshan in Central China's Hunan Province, known as Mao's birthplace.
Placing the reentry capsule of the Shenzhou-10 crewed spacecraft at his hometown is the best tribute to the late Chinese leader, Zhou noted, saying "It is the product and representation of the Chinese people's red culture in the modern era."
"We can now report to the late Chinese leader that we have made it, we have made his vision a reality," Zhou said.
Mao approved the Shuguang-1 manned space project on July 14, 1970, which paved the way for following manned space projects.
Shuguang-1 is commonly referred to by its establishment date of July 14 as the "714 Project," as opposed to the Shenzhou series "921 Project."
China's manned space missions have come a long way through generations since the "714 Project," independently achieving multiple technological breakthroughs including the success of unmanned flight experiments to manned missions and the docking of numerous spacecraft.
China has made 16 successful flight missions out of all 16 attempts in the manned space sphere. And currently, China is working to independently construct the country's first ever space station which is expected to be operational by 2022.
Mao's words from the 1961 poem Reply to Comrade Kuo Mo-Jo "Today, a miasmal mist once more rising, we hail Sun Wu-kung, the wonder-worker" was also widely circulated on social media on Saturday, as many netizens become sentimental after the year 2020 was plagued heavily by COVID-19 that has made life more difficult.