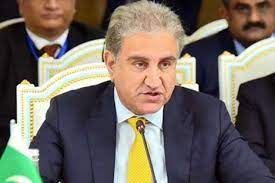 Islamabad: Foreign Minister Shah Mehmood Qureshi on Wednesday concluded 'highly productive' visit to Tajikistan
In the bilateral segment of his visit to Dushanbe, Foreign Minister Makhdoom Shah Mahmood Qureshi held a range of meetings with the Tajik leadership, on 31 March 2021.
The Foreign Minister called on President Emomali Rahmon, Chairman of the Lower House of Tajik Parliament Zokirzoda Mahmadtoir Zoir, and Defence Minister Sherali Mirzo. The Foreign Minister also held extensive delegation-level talks with Foreign Minister Sirojddin Muhrridin. The exchanges during these meetings were marked by exceptional cordiality and reaffirmation on both sides of the commitment to the abiding ties between Pakistan and Tajikistan.
In his call on President Rahmon, Foreign Minister Qureshi conveyed warm greetings from Prime Minister Imran Khan and felicitations from Pakistani leadership on his reelection as President of the Republic of Tajikistan. He also congratulated President Rahmon on successful hosting of the 9th Ministerial Conference of the Heart of Asia-Istanbul Process (HoA-IP) in Dushanbe. In the wide-ranging review of bilateral relations during the meeting, it was agreed to comprehensively upgrade the Pakistan-Tajikistan relationship in all dimensions. It was decided to work together to enhance trade, investments, energy cooperation, aviation links, road and rail connectivity, and early completion of CASA-1000 project.
In the regional context, Foreign Minister Qureshi highlighted Pakistan's positive contribution to the Afghan peace process. He hoped that this historic opportunity would be seized by the Afghan parties so that durable peace and stability could be established in Afghanistan and the region.
Foreign Minister Qureshi also reiterated the Prime Minister's invitation to President Rahmon to visit Pakistan. The President graciously indicated his intention to undertake the visit at an early date.
During his meeting with Chairman of the Majlisi Namoyandagan (Lower House of Tajik Parliament), Mr. Zokirzoda Mahmadtoir Zoir, the two sides expressed satisfaction at the inter-parliamentary cooperation and agreed to activate the already constituted Parliamentary Friendship Groups. The Foreign Minister stressed that besides high-level parliamentary exchanges, the two sides should also intensify mutual collaboration between the relevant parliamentary committees.
In the meeting with Defence Minister Colonel General Sherali Mirzo, the two sides expressed satisfaction at the growing bilateral security and defence cooperation. Foreign Minister Qureshi recalled that the visits of Chairman Joint Chief of Staff Committee (CJCSC) in November 2020 to Dushanbe and of Tajik Defence Minister to Pakistan in April 2019, had contributed to strengthen defence ties between the two countries. Both sides resolved that common evils of extremism, terrorism, and cross-border organized crimes necessitated closer bilateral cooperation in areas of defence and security.
During the wide-ranging delegation-level talks, the two Foreign Ministers expressed satisfaction at the growing bilateral ties in diverse fields and agreed to optimally utilize the existing institutional frameworks including Joint Ministerial Commission (JMC) and multiple Joint Working Groups (JWGs) to further enhance collaboration between the two countries in diverse areas including political, economic, tourism, culture and connectivity.
Foreign Minister Qureshi highlighted that Gwadar seaport offered the shortest route for Tajikistan's connectivity with South Asia, Middle East, Africa and beyond. Emphasizing the importance of economic integration and regional connectivity as drivers of economic development and growth, the Foreign Minister expressed the hope that Tajikistan would become part of the regional traffic-in-transit arrangement, which would further facilitate direct land route connectivity.
The Foreign Minister also underlined the importance of early completion of CASA-1000 project. He highlighted the need for closer collaboration between the trade authorities and business communities of the two countries and identified tourism and culture as priority areas for enhancement of people-to-people linkages.
Foreign Minister Qureshi appreciated close cooperation between the two countries at multilateral fora including the UN, OIC, ECO and SCO, and thanked Tajikistan for its support to Pakistan's full membership of Shanghai Cooperation Organization (SCO).
Foreign Minister briefed the Tajik side on Pakistan's efforts aimed at promoting peace and stability in Afghanistan and positive contribution to the Afghan peace process.
The two Foreign Ministers expressed hope that the forthcoming 5th Round of Bilateral Political Consultations (BPC) would help in delineating future course of action to further deepen and diversify bilateral relations.
The two Foreign Ministers agreed to remain in close contact to maintain the momentum of high-level exchanges and further strengthen joint efforts for enhanced cooperation in all areas.
At the conclusion of delegation-level talks, the two Foreign Ministers jointly addressed the media. Earlier, the Tajik Foreign Minister Sirojiddin Muhrridin hosted an official reception in honour of Foreign Minister Qureshi and his delegation on 30 March 2021.
The Foreign Minister concluded his highly productive visit to Dushanbe by visiting the monument of Ismail Somoni, founder of Tajik nation, paying homage and laying a floral wreath.
Relations between Pakistan and Tajikistan are based on common faith, shared history, and cultural and civilizational affinities. The bilateral relationship is marked by cordiality, trust and understanding, and mutual support. Sharing similar views on major regional and international issues, the two countries collaborate closely in multi-lateral fora. Both sides have been working assiduously to build a robust partnership covering all aspects.