All the looters are safe: Faisal Karim Kundi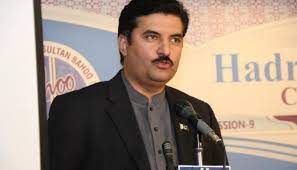 Islamabad, 21 April 2021: Secretary Information Pakistan People's Party (PPP) Faisal Karim Kundi in reaction to PM Imran Khan's speech has said that Imran Khan has divided Pakistan in two.
Two laws are the real face of the supposed change. "All the looters of sugar, flour, petrol and medicine are safe in the Niazi Empire. No action has been taken against Nadeem Babar yet. In one Pakistan the huts of the poor are demolished and in another Pakistan the Prime Minister regularizes his illegal palace," he said.
In a statement, Faisal Karim Kundi said that Imran Khan had promised to provide the poor with 5 million free houses. The Prime Minister's housing scheme is a joke to the poor. How can a poor person who can't afford to feed his children get a loan worth lakhs? He said that the Insaf card is also a big fraud; the prices of medicines are out of reach of the poor, so what use is the Insaf card?
Faisal Karim Kundi challenged the Prime Minister to present the statistics of those who have been treated with the so-called health card in both the houses of the Parliament.