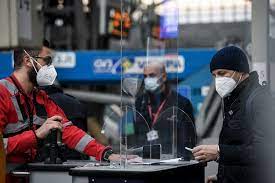 Rome: The Italian government has announced the introduction of a new Covid "green pass". But what exactly is it, and when is it needed? Here are the details.
As the government announced its plan to relax some travel and other restrictions within Italy from April 26th, it also stated that people will be allowed to enter and leave areas which remain classed as higher-risk zones using a new travel pass.
The 'green pass' document will certify that the holder had either been fully vaccinated, had tested negative for coronavirus within the past 48 hours, or had already contracted and recovered from Covid-19, according to a government statement issued last week.
But there has been confusion over what exactly the document is, amid discussion of an EU-wide 'green certificate' for travel this summer, and concerns about the implications of introducing a 'vaccine passport' in Italy – where the majority of the population is yet to receive a first dose.
Here's a closer look at Italy's green pass, or immunity card, and how it works. What will the immunity card allow me to do?
Italy has lifted some of its restrictions on domestic travel from April 26th. However, travel to and from higher-risk red and orange zones remains forbidden except for essential reasons, such as for work or a medical appointment.
But with the green pass, people will be allowed to travel to and from these areas freely for non-essential reasons, such as for tourism and to visit friends.
The document would need to be shown before boarding at airports or train stations, and if stopped by police at a checkpoint if travelling by car.
Italy has already launched some 'Covid-free' train services which only allow passengers to board if they can show a negative test certificate.
The government is also reportedly considering making the pass a requirement to attend certain cultural and sporting events, such as concerts and football matches, which are to be allowed to reopen in lower-risk yellow zones.
The green pass is needed whenever travelling for non-essential reasons, for example for a holiday, to regions of Italy which are classed as higher-risk red or orange zones.
These classifications currently apply to six Italian regions, however they are reassessed weekly based on the latest health data. See the current zone restrictions here.
If you're travelling for essential reasons, you don't need a green pass – a self-certification form is enough.
If you're travelling from one yellow zone to another, no pass or self-certification is required.
A green pass is not required if you're travelling to return home (to an address where you are officially resident), regardless of zone colour.
Children under the age of two are exempt from the requirement. What will the green pass look like, and how do you get it?
In future the pass is expected to be digital and will work within a smartphone app, maybe in the form of a QR code.
For now it will be in the form of a paper certificate – or three different certificates, to be precise. They will be the same documents already being issued to those who have tested negative, recovered, or been fully vaccinated.
The certificate will be valid for six months for those who are vaccinated or recovered, and it can be issued by the vaccination centre, or in the case of recovery, by a hospital, family doctor or pediatrician.
Certificates obtained by testing negative, meanwhile, are to be valid for 48 hours and can be issued by testing centres or pharmacies.
While paper certificates can easily be forged, the penalties if you're caught doing so are severe.
The government's latest decree states that the possible prison term for anyone using counterfeit or altered official documents will be increased by a third.
Anyone found making false statements to obtain the pass could be fined up to 3,000 euros.
Is this the same as the EU's 'green certificate' or is it another type of 'vaccine passport'?
The Italian government has not yet made a statement on whether or how it plans to take part in the EU-wide travel pass scheme proposed by the European Commission.
However it appears that the Italian immunity pass will be linked to the EU initiative.
"Vaccination passes issued in the EU are valid in Italy," the Italian government stated when announcing its own immunity pass.
The EU Commission presented its proposal for a vaccination card in mid-March, which it says should be operational by June.
"With this digital certificate we aim to help member states reinstate the freedom of movement in a safe, responsible and trusted manner," European Commission president Ursula von der Leyen said when announcing the plan.
It will show "whether the person has either been vaccinated, or has a recent negative test, or has recovered from Covid, and thus has antibodies."
However rather than implementing one type of pass across the bloc, so far it seems that each country is looking at bringing in its own rules for those who have been vaccinated or tested, or have recovered.
The idea of 'vaccine passports' has proved fairly controversial in Italy, with concerns that they would be coercive.
However there has not been the sort of opposition seen in the UK, where the idea of "vaccine passports" has been described as "divisive and discriminatory" by dozens of MPs.
Italians are already used to living with certain rules and restrictions that would prove highly controversial in the UK or US, such as the requirement to carry ID cards at all times.
But Italy does have a vocal vaccine-sceptic movement, and there are widespread concerns that the scheme would amount to coercion to take what is supposed to be a voluntary vaccine.
There are also concerns about fairness and safety when planning to allow vaccinated tourists into the country while the majority of Italy's residents have not yet had their first jab.
Many people in Italy are still unable to access a vaccine, amid a string of delays and bureaucratic problems.
However, at least at first, the advantages of having an Italian "green pass" will be limited to domestic travel, and then potentially to travel within the EU and attendance at certain public events.
Will vaccinated people be allowed to travel to Italy for tourism?
The Italian government has not yet confirmed any plans to relax the current restrictions on international travel to Italy, however it looks likely that Italy and other EU countries may relax rules to allow vaccinated tourists from at least some non-EU countries.
Thanks to the swift pace of the US vaccine rollout, Americans who have been fully vaccinated against Covid-19 should be able to visit the EU this summer, president of the European Commission Ursula von der Leyen said.
No timeline was given for allowing vaccinated tourists to travel to Europe. However the European Parliament is to debate vaccine passports on Wednesday, April 28th.
The tourism minister recently suggested June 2nd as a possible date for restarting non-essential travel, but this is not confirmed.