COVID: Pakistan to vaccinate Chinese vaccine to citizens over 40 from Monday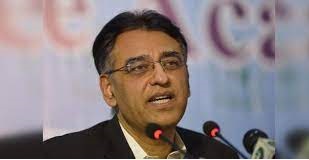 Gwadar Pro
Islamabad: Pakistan will start vaccinating the citizens over 40 years of age from Monday (May 3) with the Chinese vaccines, the National Command and Operation Centre has announced.
NCOC chief Asad Umar, who is also the Planning Minister, said the registration for those in the age group 40 to 49 years was underway and picking up pace.
"They can register by sending their CNIC (Computerized National Identity Card) number to 1166 or on https://nims.nadra.gov.pk/nims/," he tweeted.
Daily vaccinations crossed the 100,000 mark for the second consecutive day on Thursday. Walk-in vaccinations for people above 50 years had started on Wednesday.
Everyone in this age group can get the COVID-19 vaccine at any nearby centre, said Dr Faisal Sultan, the Prime Minister's Special Assistant for health.
Dr Sultan had also shared the number of COVID-19 vaccines the government had procured so far.
The government also announced on Thursday that the coronavirus vaccination centres will remain shut during the Eidul Fitr holidays across the country.
According to a notification issued by the health ministry, COVID-19 vaccination centres will remain closed from May 13 to May 15 as aprt of the Eidul Fitr holidays. "The vaccination centres will resume their operations from 16th of May," added the notification.
Earlier, the NCOC meeting headed by Asad Umar had reviewed oxygen supplies in the country, COVID-19 vaccination process, Eid policy and restrictions on international flights.
Pakistani officials also said that China's CanSinoBio coronavirus vaccine will be locally manufactured from next month.
According to the National Institute of Health, the arrangements to prepare CanSinoBio's coronavirus vaccine were done while the raw material for the vaccine would reach Pakistan next week.
The NIH had started the collaboration with Chinese company while the company's scientist will also be present in the federal capital to help in the preparation of the vaccine. The experts also trained NIH experts to prepare vaccine doses. The single-dose vaccines will ready by the end of May for mass vaccination.
On Thursday, three special flights of Pakistan International Airlines (PIA) carrying a fresh batch of one million doses of COVID-19 vaccine flew to Islamabad from Beijing.
The fresh consignment is in addition to one million doses of COVID-19 vaccine transported to Pakistan from China by three planes of the national flag carrier on April 25 Qadir Bux Sangi, PIA Country Manager for China said.
He said two special planes with corona vaccine left the Chinese capital early Thursday morning while the third special flight departed for Islamabad in the evening.
So far, the Chinese government has provided three batches of vaccines to Pakistan, and the Chinese military also donated a batch of vaccines to the Pakistani army. The Pakistani authorities have also purchased vaccines from China. The Iron Brother has pledged to continue uninterrupted supply of vaccine to help Pakistan defeat the deadly virus.