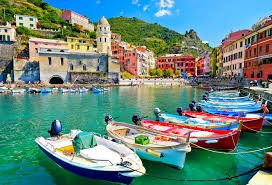 Rome: If you're wondering what exactly the rules are on travel from your country to Italy right now, here's an easy way to find out.
If you need to travel to Italy soon, or are just wondering when a vacation might be possible, there's a lot to consider.
Though Italy is now relaxing some of its coronavirus rules, many travel restrictions remain in place for now and it is not yet known when they'll be lifted.
Tourism may be possible from some countries, but there are various restrictions to be aware of which depend on the country you are travelling from, as well as your personal circumstances.
Right now, the fastest and most reliable way to check whether you'll be able to travel from your country, and what rules you'll need to follow if you do, is to use the Italian Foreign Ministry's interactive questionnaire.
This official website is available in English, and is kept up-to-date with full details of the changing Italian government travel rules for travel from each country.
All travellers to Italy from countries within the EU or Schengen zone, and from the UK, need to get tested for coronavirus twice under rules which have been extended until at least May 15th.
Italy requires people arriving from any other member of the EU or Schengen Zone to test negative for coronavirus no more than 48 hours before arriving in Italy, then spend five days in quarantine. They must then take another test after self-isolating.
Italy has banned travel from India, Bangladesh and Sri Lanka as well as tightening quarantine rules for residents who have recently returned from one of those countries.
Under the current rules, only Italian citizens who live permanently in Italy are allowed to enter from any of the three countries. Previously foreign nationals resident in Italy had also been allowed to return.
The ordinance also tightens the quarantine rules for anyone returning from India, Bangladesh or Sri Lanka, who must now spend ten days in a "Covid hotel" where they can be monitored by local health authorities.
People travelling from the United States, as well as many other countries outside the EU, remain the same as they have been for months: you can travel to Italy for essential reasons or to return home, but not as a tourist.
If you are eligible to travel, you'll have to quarantine for 14 days upon arrival in Italy.
The EU has suggested opening the external borders to vaccinated travelers, however this is not yet confirmed and the final decision will be down to each individual country's government.
The Italian government has not yet indicated when the current restrictions are likely to be lifted, as Italy remains in the grip of the pandemic.
Upon arrival, you will have to complete a form (available here or from your airline) giving your contact details and the address in Italy where you plan to quarantine. You will need to organise your own transport from the airport without taking trains, buses, coaches or other public transport to reach your destination.
Once you're at your place of quarantine, you should not go outside unless there's an emergency, nor can you invite anyone over or socialise with other housemates (unless you're quarantining together).
You are also required to inform the local health service, or ASL, so that they can monitor you. Depending on where you are, you should be able to do this by phone, email or by filling in a form online: consult your region's website for more information.
For more information on international travel to and from Italy, see the Foreign Ministry's website and check the restrictions in your destination country with the appropriate embassy.