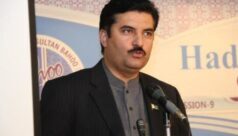 Islamabad: Central Secretary Information Pakistan People's Party (PPP) Faisal Karim Kundi while welcoming the decision of the Election Commission to recount in NA-249 said that applications for recount have also been pending by PPP candidates for two and a half years but no recount was ever conducted.
He said that now it is hoped that the Election Commission will also consider them for recounting.
Faisal Karim Kundi asked that if there is rigging in NA-249 then why was no complaint lodged with the Election Commission during the polling process. He said that the decision of the Election Commission to recount NA-249 without any evidence of wrongdoing was shocking. If recounts are possible in NA-249 without evidence of fraud, then it will be used as an example in every election.
He said that the demand for inviting the army to intervene after the defeat in the Karachi by-elections was regrettable. It is hoped that in the case of a victory of the PPP in the recount, its leadership will be heartily congratulated by all other parties.