Pakistan Finance Minister stresses for giving more importance to CPEC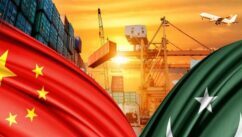 China Economic Net
Islamabad: Federal Finance Minister Shaukat Tarin said has stressed on giving more importance to the multi-billion-dollar China-Pakistan Economic Corridor (CPEC).
He said Iron Brother China had spent a massive sum on infrastructure of Pakistan and the government was also urging the Chinese investors to set up companies in Pakistan.
"China had made huge investments in Pakistan under CPEC. We should give more importance to CPEC," he said at his first news conference since being appointed as the finance minister last month.
Tarin said Pakistan wanted the neighbouring countries to set up industries in the CPEC's Special Economic Zones (SEZs). "CPEC will help boost industrial growth and job creation. The coronavirus took a heavy toll on the national economy but it would be back on track once the third wave is contained," he added.
The Finance Minister underlined the importance to utilize CPEC to promote exports from the country. "China has made huge investments now it is time that Special Economic Zones are established here so that industries manufacture products for the export purpose," he said.
Tarin said the Information Technology was also a promising and game-changing sector. "The exports can be mounted from current US $ 2 billion to US $ 8 billion in next 8 years," he remarked.
About the issues faced by the taxpayers, Tarin said the Federal Board of Revenue (FBR) did a good job overall but some complaints had also surfaced. "We will fix the issues," he added.
Tarin said the International Monetary Fund (IMF) program had some tough conditions which will also have a political cost.
"Pakistan has not left the IMF program but the country will ask it to loosen some of its conditions. We will ask IMF to give some space and to not give any targets; however, the government will try its best to increase the revenue," he maintained.
About the economic situation of the country, the minister said that agriculture, which was stagnant from past 15 years, was most important for Pakistan and government would have to take steps for its promotion. "The IT sector can also become a game changer in next 5 -10 years," he added.
Shaukat Tarin said revenue collection grew by 57 per cent in April. "In March, revenue collection rose 46 percent as compared to last year's corresponding period. Revenues were projected to grow by 92 percent in April as compared to last year but registered only 57 growth due to the Covid-19 pandemic."
He said that inflation had been a serious concern for the government. Likewise, he said, the government wanted to expand the social protection network by including other sectors like health, employment and skill development in it.
He said that the government was also focused on bringing about reforms in State Owned Entities (SOEs), which he said would be supervised by private sector to enhance their efficiency.
He said that the economy was going well on growth path when the Covid-19 hit the country in 2019 and affected economy. However, the government managed it well and even gave relief package of Rs 1.2 trillion.
Ends
———————————————–