Chinese company Changan Auto to create history for Pakistan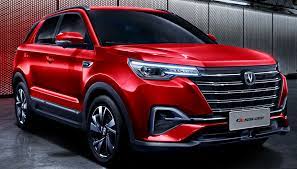 Karachi: Chinese company Changan Auto will be the first in the history of Pakistan to export locally (Pakistan) made vehicles.
The company has selected Pakistan as a strategic export base for right-hand drive countries.
The company has opened a plant in Karachi with an annual production capacity exceeding 50,000 units. Changan Auto has already sold over 20 million vehicles globally.
Changan Pakistan has launched mini pick-ups M10 and M9, minivan Karvaan and a sedan car Alsvin.
It plans to introduce electric vehicles. Changan in China is looking to ensure all its vehicles have electric models too by 2022.
Changan Pakistan, registered under Master Changan Motors Limited, acquired Greenfield status under the Auto Policy 2016-2021 and entered a joint venture with Changan Auto with an investment crossing $136 million.
The Pakistan-Chinese automotive joint venture, Master Changan Motors (MCM), plans to turn its $136 million complete knock-down (CKD) assembly plant in Karachi into a hub of exports for the Chinese right-hand-drive cars to the regional countries.
MCM is the only joint venture where a Chinese automotive manufacturer has actually invested capital in the project whereas most Chinese Original Equipment Manufacturers (OEM) interested in exploring their chances in Pakistani market are preferring 'technical cooperation' with their local partners.
Established back in 2017 as a 70:30 joint-venture between Pakistan's Master Group and China's Changan Motors, MCM started by producing two pick-up trucks and a multi-purpose vehicle in 2018,
It has so far sold a staggering 17,000 units of Changan's compact sedan Alsvin it.
Bangladesh and Sri Lanka could be the potential markets for MCM vehicles once the exports start.
Other Chinese automotive companies have also been exploring markets and expanded in other countries as market growth in China is stagnating for some years.
Changan, a state-owned company, agreed to the proposal to set up a plant in Pakistan to venture into other regional markets owing to close Sino-Pak relationship strengthened by the multi-billion-dollar China-Pakistan Economic Corridor (CPEC).initiative.
The near-term priority is to first create and meet the demand within Pakistan before starting exports to the other regional countries.
The company is also testing self-parking and to some extent the self-driving Level-3 autonomous compact SUV Uni-T. It is the Chinese automaker's first vehicle in the new UNI series.
Marketing and sales director Shabbiruddin says that road conditions are different in China and Pakistan. "That is the reason we are testing it first."
He said that the biggest problem autonomous driving technology will face in Pakistan is that many roads doesn't have lanes.
"It will tell the driver that the driver has to take over steering because of a lack of lanes," he said. "It needs lanes on roads to assess the right direction."
Autonomous driving will be safer in low-visibility conditions such fog and rain.
Shabbiruddin said that the response time to apply brakes in autonomous cars is quicker than in humans therefore the technology would eventually make driving safer with fewer accidents. "At the moment, it is legally binding for a driver to in the driving seat. Above a certain speed limit, for instance 40km/h, a driver must keep their hands on the steering otherwise the car will begin warning."
The 1500cc turbo five-seater is selling for around Rs3.5 million in China (138,000 Yuan). It will be taxed approximately the same amount. If launched in Pakistan, the car with a futuristic shape may be around Rs7 million.
Changan Pakistan says they want to be trendsetters in Pakistan. "It's a good feature," said Shakaib Khan, an auto sector analyst who runs SK Motor Syndicate.
The UNI-T comes equipped with an AI-chip based intelligent vehicle system creating a human-machine interactive experience. The driver can interact with the system through a dual screen touch interface, intelligent voice activation, and a facial recognition system.