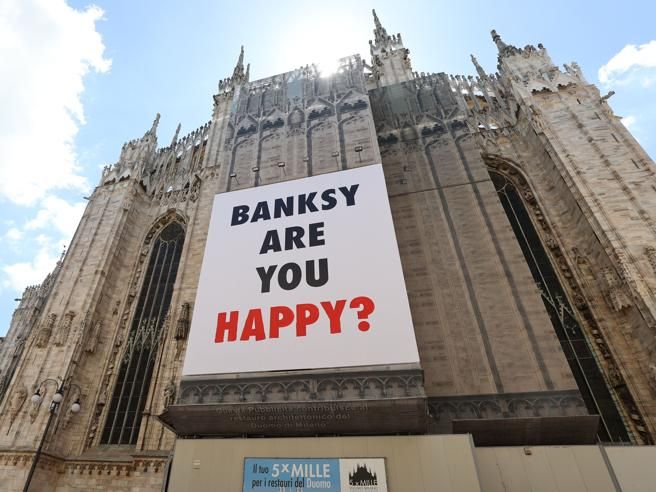 Milan: Banksy's name on the facade of the Duomo in Milan is a maxi poster for a Netflix production. Banksy are you happy? No one knows who he is (or nearly), Banksy, the world's most famous and mysterious street artist, the man worth £19.4 million at auction (for "Game Changer"). And no one knows (or nearly) what the maxi-poster advertisement that appeared on the construction site of the Milan Cathedral refers to. Banksy, are you happy? There are a few clues that it could be the campaign for the launch of a new television format.
Initially the poster was "arranged" with the words "Banksy are you" in black. "Banksy are you", almost as a sort of provocation, and then "happy?" was added in red. The name, in the world of street art, is one that counts. It is, in fact, the artist from Bristol whose identity has never been revealed.
The giant poster was affixed to the facade of the Cathedral in Milan by a man on an aerial platform and immediately attracted the attention of dozens of passers- by.
It's no coincidence that some passers-by recognized the TV presenter Alessandro Cattelan on the scaffolding lift, under a worker's helmet, with a video maker next to him. Cattelan recently announced his farewell to Sky, after 10 years, in order to realize projects with Rai and Netflix. A few days ago, Cattelan released a video on Instagram hinting at the concept of his next project, expected at the end of 2021, on Netflix. The title, "A simple question". The theme, happiness. Like: Banksy, are you happy?
"Banksy are you happy?" has already been shared across social networks, as people are so intrigued by the strange initiative.