President Alvi appreciates China's support for livestock sector development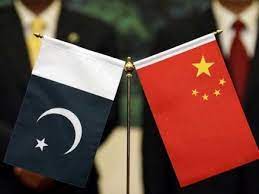 Gwadar Pro
Islamabad: Pakistani President Dr Arif Alvi has appreciated Iron Brother China's support for the development of livestock sector in Pakistan.
Chairing a follow-up meeting on Meat Exports and Processing here, he said the livestock sector can contribute to economic development, food security and poverty alleviation and Chinese help was appreciable.
Pakistan is looking for joint ventures with China to upgrade livestock and fisheries industries and explore opportunities in Special Economic Zones (SEZs).
Last day, Minister for National Food Security and Research Fakhar Imam said Pakistan needed to modernise livestock and fishery industries by upgrading infrastructure and building a substantial supply chain through joint enterprises with China, technology transfer and talent cultivation.
Imam pointed out a number of challenges facing these sectors, while also highlighting potential of expansion in Chinese markets.
China Animal Agriculture Association Deputy Secretary General Li Jinhui said China was the largest importer of beef and a major importer of mutton and chicken. This presents enormous opportunities to Pakistan to enhance its beef and mutton exports, he said.
China Overseas Ports Holding Company Chairman Zhang Baozhong highlighted a number of viruses and diseases found in Pakistan's livestock.
China had agreed to help Pakistan establish foot and mouth disease-free zones in Punjab and Balochistan to ensure the health of the food animals under an agreement signed in 2019.
China and Pakistan are moving forward to strengthen cooperation in animal husbandry and fishery sectors. Experts and prominent companies from both sectors continue to hold bilateral dialogue to discuss educational and industrial program and possible measures to enact such cooperation.
China has recently granted a licence to a Pakistani meat exporter after lifting quarantine restrictions.
Chinese authorities had imposed quarantine restrictions on Pakistan's meat. Currently, Pakistan exports beef to Vietnam and from there it enters into China without any restrictions. Its meat is also exported to Gulf countries and Malaysia.
Pakistan's exports of meat and meat preparations amounted to $248.2 million in the first nine months of the current fiscal year, up seven percent year-on-year. The exports accounted for merely 1.3 percent of the country's total exports of $18.7 billion during the period. Pakistan is self-sufficient in meat production.
Pakistan exports around four percent of beef and veal produced in a year. This was despite the fact that the country was among the top 10 beef and veal producers in the world, producing approximately 1.8 million tons. Local consumption is estimated at 15 kilograms per capita.
At the a follow-up meeting on Meat Exports and Processing, President Alvi underlined the need for development of livestock sector in the country, said an official statement released by the presidency.
The President said the sector also has great potential to earn foreign exchange and it was essential to increase its export value by meeting international requirements and ensuring quality control of the Pakistani products.
The President asked the concerned Ministries and Departments to facilitate the meat exporters and address their problems.
He reiterated the government's commitment to address the problems of meat exporters and processors enabling them to enhance production and increase exports.