CPEC: Timely completion of Gwadar Expressway ordered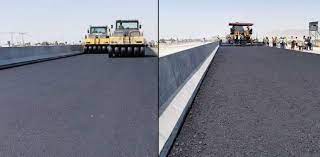 Gwadar Pro
Islamabad: Federal Minister for Economic Affairs Omar Ayub Khan has ordered timely completion of the Gwadar Expressway under the China-Pakistan Economic Corridor (CPEC).
The minister chaired a meeting of the National Coordination Committee on foreign-funded projects here, said an official statement.
The Construction of Eastbay Expressway is the main artery of Gwadar Port through which the entire traffic of port will flow.
The objective of Eastbay Expressway is providing primary connectivity of the Port and its Free Zone with the network of National Highways.
Linking Gwadar Port with the main artery of national highway network and smooth logistic transportation of import, export and transit goods, currently, Gwadar Deep-Sea Port is connected through a narrow 16 feet wide thoroughfare of Gwadar town at the West-Bay.
All the trawlers and trucks loaded with imported shipments pass through this strip causing disruption of normal traffic.
The port does not have a dedicated wide highway to cater the transporting requirements of the post. The port operationalization, even with the available 3 multi-purpose berths, necessitated construction of the planned East-Bay expressway.
This 6-lane expressway along with a provision of 30 meters wide railway corridor shall connect the port with the Mekran Coastal Highway (N-20) through the 2300 acres Free Trade Zone of Gwadar Port.
The NCC meeting chaired by Omar Ayub Khan on Monday afternoon reviewed the progress work on 15 Roads and Transport projects and five ongoing projects of Finance and Revenue.
The five projects of the Finance and Revenue sector would be completed at a cost of Rs 1.3 billion in partnership with World Bank (WB) and Asian Development Bank (ADB), the meeting was told. The minister directed all the stakeholders to resolve bottlenecks and expedite implementation.
Omar Ayub directed the authorities concerned to timely completed the ongoing projects. He also ordered authorities for timely completion of Gwadar Expressway and Indus Highway Sindh
Earlier, CPEC Authority chief Lt. Generral Asim Saleem Bajwa (retd) had said the work on the Eastbay Expressway Gwadar project was in final stage and it would be completed by October this year.
He said the 14.5 kilometers offshore expressway had already been completed while the remaining 4.5 KM onshore road was under construction and 92 percent of work has been completed.
The Chairman CPEC Authority said the Expressway will connect the port with the second phase of the Free Trade Zone which will facilitate the business climate of the zone and the port alike.