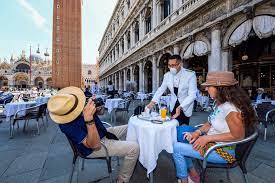 Rome: Recent changes to the travel rules have left many people unsure if or when they can visit Italy for a vacation this summer. Here's the information available so far.
For more than a year, vacations to Italy were impossible as most travel from the US – and many other countries outside Europe – remained heavily restricted amid the coronavirus pandemic.
But a recent rule change means travel to Italy for non-essential reasons is now possible once again – at least for some people.
Italy changed the rules in mid-May to allow tourism from the US on special Covid-tested flights.
"Travel for tourist purposes will be allowed from the USA, Canada and Japan, countries with which we're strengthening Covid-free flights," Di Maio wrote.
"Until now, with Covid-free flights, it was not possible to come to Italy for tourism from non-EU countries. Now we're reopening to this opportunity, which allows safe travel without quarantine."
So far, American Airlines (AA) and Delta have confirmed that they are now allowing passengers to travel to Italy for any reason on their dedicated Covid-tested routes.
However, the number of Covid-tested flights and routes available remains limited at the moment.
Travel for tourism is still not allowed on other, non-Covid-tested flights from the US to Italy. Passengers on these flights are subject to testing and quarantine requirements, as well as needing to be able to prove an essential reason for travel.
While AA and Delta both said in mid-May that they plan to make more of their current routes to Italy Covid-tested, neither airline has yet given an update on this.
Italy meanwhile plans to set up Venice and Naples airports to accept passengers on Covid-tested flights, though no date has been given yet for when the flights to those airports will start.
EU ambassadors for the 27 member states last week recommended that rules should be changed to allow non-essential visits into the EU by travellers who are fully vaccinated – in other words with both doses of a two-dose vaccine or one in the case of the Johnson & Johnson injection.
However on the unresolved question of how visitors will be able to prove they have been vaccinated, the EU said it will be up to individual member states to decide what evidence they will accept.
It looks likely that Italy and other EU member states will allow travelers from certain non-EU countries deemed to be low risk if they are fully vaccinated, or potentially also if they can show a negative test result from a PCR swab test from within the 48 hours before travel to Italy. The rules however have yet to be confirmed.
At the moment, all travellers arriving in Italy must show a negative swab test result, including those from within the EU and those who are fully vaccinated.
While Italian Prime Minister Mario Draghi has said the country wants to cut quarantine for vaccinated tourists from the United States, Canada and Japan, there has been no confirmation yet of when or how rules could change for any non-EU visitors other than those on the special Covid-tested flights.
Delta and AA have stated that American travelers will be able to board the Covid-tested flights regardless of vaccination status. On Covid-tested flights, there are no exemptions made to the testing requirement for those who are vaccinated.
The Italian government is expected to make further announcements on the rules for travel from outside Europe this summer by the middle of June – when it says the country's travel pass scheme is set to be rolled out.
Italian prime minister Mario Draghi said this week that the country's so-called "green pass", a health certificate that allows travel without quarantine, "will be ready by mid-June" – sooner than indicated by other EU officials.
The Italian prime minister gave an earlier release date compared to the EU Commission's announcement, which estimated the certificate is "well on track to be ready end of June, as planned".
Other officials have estimated that the scheme will be in operation by early July.
No details have yet been announced as to how the green pass will work for EU or non-EU travelers.
For now, most travelers coming from outside the European Union will still need to follow quarantine and testing rules, which vary depending on the country you are travelling from.