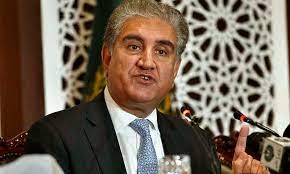 Islamabad: Foreign Minister Shah Mehmood Qureshi said Thursday Pakistan had successfully fought the Palestine issue at all international fora to stop Israeli atrocities against unarmed and innocent Palestinians.
Talking to Secretary General of Wafaq-ul-Madaris Al Arabia Qari Hanif Jalandhari in Islamabad on Thursday, he said Saudi Arabia has played a commendable role in convening OIC emergency meeting on the issue after attack on Al-Quds mosque.
He said Pakistan has tabled resolution in the special meeting of United Nations Human Rights Council and demanded an independent enquiry against human rights violations being committed by Israeli occupation forces in Palestine. He said the resolution was adopted by the council with the support of clear majority. He said announcement of ceasefire is the first success of Pakistan efforts.
Qari Hanif Jalandhari congratulated the Foreign Minister in highlighting Indian atrocities in Indian Illegally Occupied Jammu and Kashmir (IIOJ&K) and exposing the real face of Indian.