Chinese Ambassador invites ANP to celebrate centenary with CPC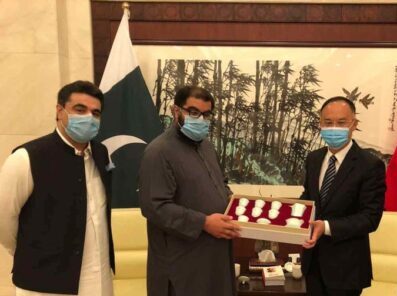 Islamabad: Chinese Ambassador in Pakistan Nong Rong has invited the Awami National Party (ANP) to jointly celebrate the centenary for both ANP and the Communist Party of China (CPC).
In a tweet – citing a meeting with ANP Khyber Pakhtunkhaw Provincial President Aimal Wali Khan – the envoy said: "Glad to meet the young leader of ANP, Mr. Aimal Wali Khan @Aimalwali. This year marks the centenary for both the CPC & the ANP. Looking forward to joint celebration in this regard."
The envoy urged for more communication and cooperation "between our two parties and our peoples of the two countries."
Earlier, a statement released by the ANP said that during the meeting, Aimal Wali appealed to the Chinese envoy to focus development of backward areas including Khyber Pakhtunkhwa and Balochistan.
Aimal Wali also said ANP would hold centennial celebrations of Communist Party of China in Baacha Khan Markaz.
Chinese ambassador said that CPEC was a project of supreme importance that would impact backward areas in a positive way.