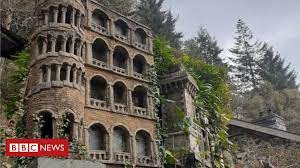 Rome: Off a tiny lane in the depths of mid Wales lie hundreds of small Italian model buildings. Unless you know where to look, you will not find the garden Mark Bourne and his wife Muriel spent decades creating, and its history is only known by rumour.
Jonathan Fell is now conserving it, with the location kept secret to prevent an invasion of visitors. "It's delightfully nutty, a normal bloke who's done something extraordinary," he said.
Mr Fell, 61, is no stranger to eccentric gardens and structures – and he said the lack of any order was what appealed most.
"I would guess at the figure but it's hundreds, I'd say, of models of real Renaissance buildings and parts of buildings from Italy.
"It's the madness that I love, he hasn't intentionally gone 'I'll build 10', there's nothing anal about it.
"It's all word of mouth and guesses and rumours, it's only what people tell you but this bloke, he's fascinated with Italy, goes there a lot, and while he's there he takes photos of buildings, all Renaissance, then comes back and builds models of them in his garden."
Mr Fell believes Mr Bourne, who died in 2009, started the garden – near the border between Powys and Gwynedd – with its model of Florence Cathedral.
"It's about the size of a thick fridge and I think he built that first because it's probably the most famous Renaissance building and it's quite near to the lane, I think he was saying 'look what I've done'."
"He then gets enthusiastic," said Mr Fell, "and this is just my gut, but he starts growing it, he puts in paths, he chucks another one up, and another one.
"There are wibbly, wobbly paths everywhere, piazzas and all sorts of famous buildings."
People living nearby, now aged in their 60s, remember helping Mr Bourne at the time with mixing concrete and other tasks, Mr Fell said.
But the aim now is for the garden to remain private, perhaps eventually offering limited guided tours.
"He was very open, it seems, but it was and it will remain a private garden because that was what he wanted, it was his little garden in the middle of nowhere that you might show your mate if they asked.
"The last thing we want is for anyone to think this could be a good place for a rave. "You could chuck in a big motorway and say 'everybody come down' but you don't want to do that, because that wasn't his intention."
Mr Fell, an eco-builder and designer who worked on the Royal Pavilion in Brighton, said he cannot understand how Mr Bourne physically got the 80-100 tonnes of concrete he would have needed up the steep lane leading to the garden.
"It's a 30-degrees hill, how did he do it? It's ridiculous how much gear he's managed to get up there and all the paths have concrete foundations too.
"There's always hidden women involved in history, some bloke with a wig gets the credit when it's all her work, and I have no doubt his wife was involved."
Mr Fell said after Mr Bourne died – and during his later years – his family did their best to maintain the garden but it was difficult, and some parts have fallen into disrepair.
"They all wanted to keep it because it's a treasure, and it's actually not in bad nick considering they are outdoors in Wales in an area notorious for having different weather every 10 minutes.
"I'd have loved to meet the guy, we'd have got on like a house on fire because I build crazy gardens too, so this conservation, it's going to be done properly."
Mr Fell is using white lime to repair the models – saying the intention is to use different materials to what was originally used in order to show what is original work and what is repair work.
"The web of white lime, it'll scream at you in the beginning but it will mellow down."
But Mr Fell said the aim was conservation of what was there now – meaning if an arch has fallen down, it won't be put back up again.
Nor will the "jungle" in the garden be cut back or tidied – because Mr Bourne "wanted a jungle with these ruins coming up out of it, he didn't want a national trust," he said.
"This is not posh, you can find lots of gardens and trusts that are all about posh people and rich people but this is an ordinary guy with an obsession.
"I love normal people in history, and it's a touch harder to pin that down but for me it's way more fascinating, a normal bloke who's done something extraordinary."