PTI has no concern for common man: Bilawal Bhutto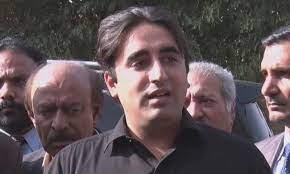 Islamabad: Chairman Pakistan People's Party (PPP) Bilawal Bhutto Zardari criticized PTI's lack of concern for the common man and their failed economic policies damaging the future of Pakistan. He pointed out that due to the anti-people policies of PM, even the middle class of the country has fallen into poverty.
In a statement, Chairman PPP Bilawal Bhutto Zardari demanded PM Imran Khan be held accountable for the false promises he made to the public during elections. "The Prime Minister, who vowed for a change in 90 days, is now fooling the people once again by announcing to solve the country's problems in the next government. What a cruel joke he is playing on the nation" he said.
"Does the PM think we have forgotten the claims he made regarding job creation?" questioned Chairman Bilawal Bhutto Zardari. "He gave his word and promised our people 10 million jobs. But when he came to power, he did the opposite – he snatched away jobs from the people."
Highlighting the PM's inexcusable decisions during his tenure, Chairman PPP pointed out that inflation was imposed on 200 million people of Pakistan. This was done just so the reigning government and the PM's cronies can benefit from the underprivileged's fruits of labor. "The countrymen are not blind," said Chairman Bilawal Bhutto Zardari, "They can see how PTI has created economic policies that are leading the rich to get richer, while the poor are getting poorer. Imran Khan's big claims of economic development have collapsed."
According to Chairman PPP, Pakistan now needs a savior. That savior can only be Pakistan Peoples Party and their economic policies that have done wonders for the country in the past. He also said that increasing the debt of the country does not count as successful leadership. What matters is the growth in employment and the availability of "ROTI KAPRA AUR MAKAN."
"If the direction of the country's economy is to be corrected, we must save the country from future experiments like Imran Khan," stated Chairman Bilawal Bhutto Zardari. "Our past tenures speak volumes of the benefits we have provided for the people. PPP's economic policies are not for the rich, but for the improvement of the lives of the common man."
Speaking of PPP's economic achievements, Chairman Bilawal Bhutto Zardari said, "Our accomplishments include record employment for the youth, the Pak-China Economic Corridor, and a GSP Plus Status from Europe," he disclosed. "These are achievements that will not be forgotten."