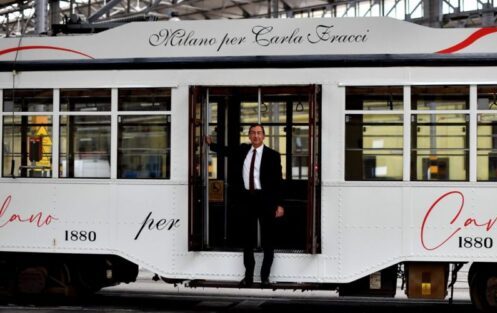 Milan: Milan has paid tribute to Carla Fracci by dedicating a tram to the legendary Italian dancer who died on 27 May.
The tram is white, in a nod to the dancer's trademark fashion sense, and carries the subtle inscription "Milano per Carla Fracci."
The idea was first suggested by Milan mayor Beppe Sala who, on the day of Fracci's funeral, said he had asked the city's public transport body ATM to dedicate a tram to the ballet legend.
The Line 1 tram passes in front of La Scala opera house where Fracci studied and would go on to become one of its top stars, best known for her performances as Giselle.
Sala suggested the tram would be a "very Milanese way" of remembering Fracci who was, he said, the "proud daughter of a tram driver."
The mayor also recalled that the ballerina's father Luigi took his daughter as a little girl on the Line 1 tram to her first audition at La Scala.
As the years went by Fracci rose to international fame, dancing alongside some of the greatest dancers in the world.
And whenever her papà drove his tram past La Scala he would ring the bell with pride.