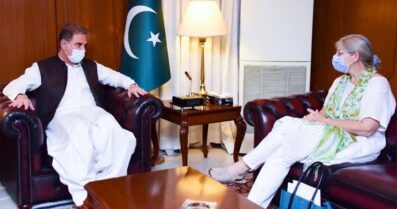 Islamabad; Canadian High Commissioner to Pakistan Wendy Gilmour called on Foreign Minister Shah Mehmood Qureshi in Islamabad Tuesday.
They discussed the tragic incidents involving a Pakistani-origin family in Canada and issues of mutual interest, including the growing trend of Islamophobia.
Qureshi said we are deeply saddened by the tragic incident that happened to a family of Pakistani origin in Canada. He said the killing of a Pakistani-origin family in Canada is a clear example of Islamophobia and terrorism. He said we welcome the positive response of Canadian Prime Minister Justin Trudeau in this regard.
Shah Mahmood Qureshi said Prime Minister Imran Khan and he, as Foreign Ministers, have been speaking out against the growing trend of Islamophobia internationally. He said there is an urgent need for effective global action on Islamophobia.
The Canadian High Commissioner expressed regret over the tragic incident and assured full investigation into the incident and stern action against those responsible.
The Canadian High Commissioner also briefed the Foreign Minister on the condemnatory statements made by Prime Minister Justin Trudeau and Premier Rob Ford of Ontario following this tragic incident.
Foreign Minister Shah Mahmood Qureshi has expressed his concerns over the killing of a Pakistan origin family in Canada.
In a statement on Tuesday, he termed it an act of terrorism and a big tragedy.
Qureshi asked the Canadian Prime Minister to play his role to ensure the protection of Muslims in the country.