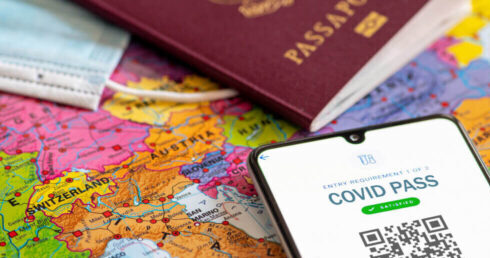 Rome: Italy is ready to launch travel health certificates within a few days, the authorities have announced on Wednesday after the European Parliament gave the final approval to the EU COVID-19 certificates, through which the block intends to restore travelling within the European Union Member States, SchengenVisaInfo.com reports.
"On the green pass, we are ready. It's a matter of a few days," the Emergency Commissioner General, Francesco Figliuolo, said.
The EU COVID-19 vaccination passport will serve as evidence of the holder being fully vaccinated with the European Medicine Agency approved vaccines (Moderna, AstraZeneca, Pfizer, and Janssen), has recovered from the disease or has resulted negative in the last 48 hours.
Starting from June 15, all document holders will be permitted to visit Italy, attend weddings, concerts, or go to nightclubs.
The certificate can be used for intra-EU travel from July 1 and should release travellers from entry quarantine or further testing upon arrival. The green pass can be presented either in digital format, on a smartphone, for example, or printed out on paper since it features a unique QR code for verification, which border officials can use to verify the holder's identification.
The European Commission continues encouraging EU member states to start issuing the COVID-19 passport as soon as possible in order for holidaymakers to make it on time of the season.
Since June 1, seven EU countries have started implementing the certificate, with Spain and Lithuania joining later, but still almost one month ahead of the deadline, which was set up on July 1.
Massimo Garavaglia, the Italian Tourism Minister, previously stated that he would like to see the certificates introduced earlier – as they have already been implemented by their counterpart tourist destinations such as Greece, Spain, and Croatia.
"Every member state will need to develop their national implementation for the EU Digital Covid Certificate. National wallet apps could be developed but are not the only option. Integration in existing tracing or other apps, commercial solutions, digital storage of PDFs and of course paper certificates are also possible," an EU Commission's spokesperson has noted.
On the other hand, the World Tourism and Travel Association has welcomed the introduction of EU COVID-19 passports, which according to the Senior Vice President, Virginia Messina, will help a robust return of international travel if the Member States implement the system by the beginning of July.
Messina also noted how the pandemic has affected millions of people whose lives depend on the tourism sector and warned that if international travel isn't restored any time soon, the economic and global recovery will be further delayed.