Pakistan in contact with Iron Brother China for top quality cotton seed, transfer of technology: FM Qureshi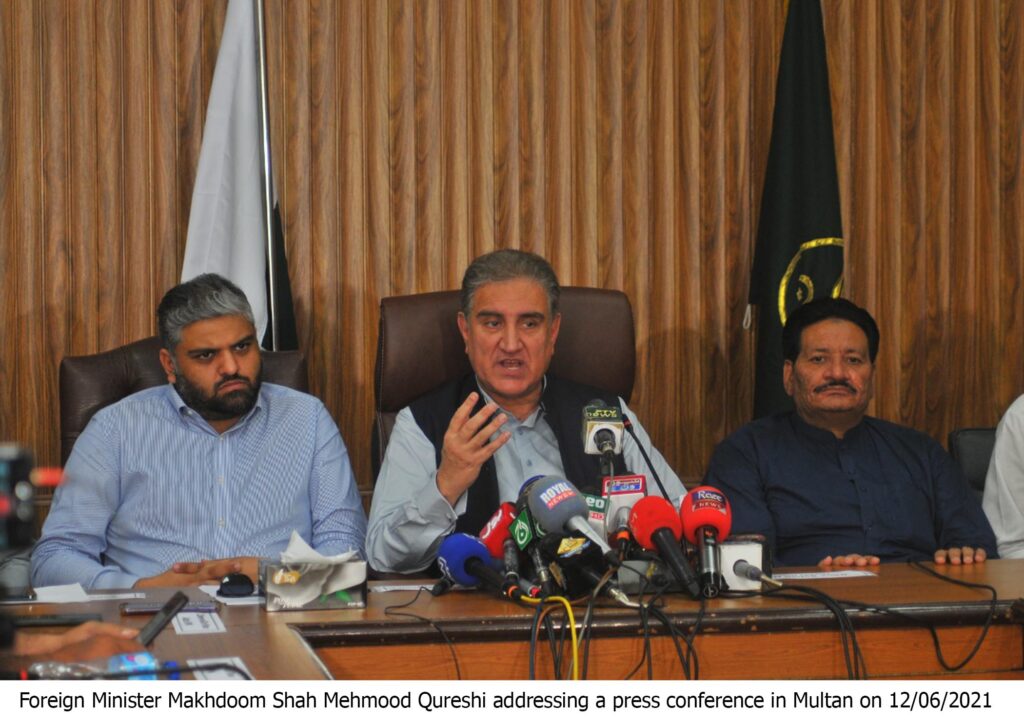 Multan: Pakistani Foreign Minister Shah Mehmood Qureshi has said that the Pakistan was in contact with Iron Brother China for availability of top quality cotton seed and transfer of the technology in this regard.
Speaking at a news conference here, FM Qureshi Iron Brother China had been generously cooperating with Pakistan in the agriculture sector.
"The government is in contact with China to ensure availability of top quality cotton seed and transfer of technology. The government has also decided to offer interest free loans to peasants to improve crops' productivity. In the industrial sector, Pakistan has made unprecedented growth of 9 percent," he said.
FM Qureshi said that federal excise duty and some other taxes were reduced to improve industrial sector. "The government also gave relaxation of taxes in Special Economic Zones (SEZs) udner CPEC (China-Pakistan Economic Corridor). These measures would surely help accelerate growth rate in the country," he added.
He maintained that public sector development allocations had been increased from Rs 630 billion to Rs 900 billion in the new budget, applicable from July 1.
To address issue of inflation in the country, the Foreign Minister remarked, the government was paying focus to enhance productivity as it would help improve supply of commodities and help counter inflation.
About roads and communication infrastructure, he said, the government had earmarked funds for Sukkur to Hyderabad Motorway, Sialkot to Khharian, Quetta-Chaman and Karachi Circular Railways.
Similarly, huge funds would also be utilized on Freight Corridor, ML-1 Railways and some other mega projects, he said, citing the CPEC projects.
FM Qureshi said the government was negotiating with China for Main Line 1 (ML-1) Railways project. "It would be completed in phases," he remarked.
Similarly, he said, the government earmarked Rs 118 billion for Energy projects with a focus on renewable energy schemes of hydel and solar system.
Qureshi added that the government would also improve irrigation infrastructure with cost of Rs 91 billion and 10 dams would be completed within 10 years.
About regional equalization, the Foreign Minister said that huge funds were earmarked for development of backward areas of the country including merged districts of Khyber Pakhtunkhwa, Southern Balochistan and Gilgit Baltistan.
He maintained that the government had provided relief to all sectors in the recent budget including farmer, industrialist, stock exchange, government employees and some others amid limited resources.
Qureshi hoped that the provinces would also follow federal government in their respective budgets and provide maximum relief to the masses.
He also hinted that South Punjab would have separate annual development allocations in the provincial budget.
The separate budget of South Punjab would be ring-fenced, said Qureshi maintaining that the ring-fenced budget would be utilized in South Punjab only.
When questioned about different Covid vaccines and entry of Pakistani citizens in different countries, the FM stated that huge funds were earmarked for purchase of vaccines. "This would be helpful for health and travel (of the Pakistani citizens to different countries)," he said.