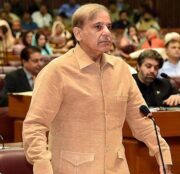 Islamabad: Pakistan Muslim League (Nawaz) President Shehbaz Sharif has urged the government to expedite the work on the China Pakistan Economic Corridor (CPEC) projects.
Speaking in the National Assembly during the ongoing budget session, Sharif, a former Chief Minister of Punjab, said CPEC would put the country on the path of prosperity.
"The CPEC projects were speed up during the era of PML-N. We did this to put the country on the path of progress and prosperity," he said in his speech. Sharif said the work on the CPEC projects should not be delayed under any circumstances.
Sharif, now the Leader of Opposition in National Assembly, pressed the Pakistan Tehrik-e-Insaf (PTI)-led government to fulfill its promises made with the nation during general elections 2018.
He said PTI-led government had made promises before the general elections 2018 to provide employment, homes and end corruption. He went on to say that the PTI had also made promise to return back $ 300 billion from abroad but it completely failed to honor its promises made with the nation.
Shehbaz Sharif claimed that the Gross Domestic Product (GDP) ratio was 5.8 percent in 2018 during the PML-N's government which had plunged to -0.5 per cent due to the "failure" of the present government.
He alleged that over 20 million masses had gone under the poverty line due to the wrong policies of the government. The sufferings of the government employees had also increased, he added. He alleged that around million employees had lost their jobs contrary to the government claims for provision of jobs.