Marriot Hotel hosts Gerry's Diplomatic Football League's closing ceremony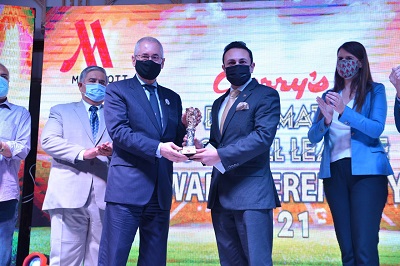 Islamabad: The Gerry's Diplomatic Football League closing ceremony was organized Friday evening at Marriot hotel Islamabad. Different awards were distributed among the participating Embassies teams who participated with their diplomats and local staff in the football league. The ceremony was attended by different ambassadors
Julius Kibet Bitok, Nigerian High Commissioner , Nicolaus Keller, Austrian Ambassador Dr. Bernhard Schlagheck, German Ambassador , Irena Gancheva, Bulgarian Ambassador, Olyntho Vieira, Brazilian Ambasssador, Sardar Yasir Iliyas Khan, President Islamabad Chamber of commerce and Industry , Aneel Saeed ,Assistant Commoners Islamabad , Major General Sikander Haroon Pasha , Agnes Pompos , Head of Missions' Relations & Communications at Gerry's Visa, Maurizio Romani , GM Marriot Hotel Khalid Hassan Alotaibi, Saudi Deputy of the ambassador among many other DHM's , diplomats and business community were present. The Diplomatci League Tittle sponsor was gerry's and closing ceremont Marriot Hotel Islamabad among many other sponsors.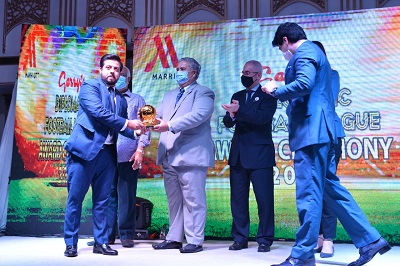 The Saudi Embassy Team were declared the crown champions of the league with 24 points , Arab tent Team were in the second position with 21 points while the Brazilian United Team secured the third position with 19 points. Total six different Embassies team participated and represented more than 16 different nationalities in the league. The Top scores award was given to Mubasher Sanjrani from Brazil united Team and the best player award was given to Mr. Sultan from the Saudi Team. Special awards were also presented to Mr. Hamza Shafqaat, Deputy Commissioner and to Mr. Sardar Yasir Iliyas khan, president ICCI for their support and promotion of sports activities in Islamabad.
To make the event memorable especially performances was staged by Dhool band which is popular Sufi rock music. The Diplomats and guest were amazed by the performance and joyfully enjoyed the music.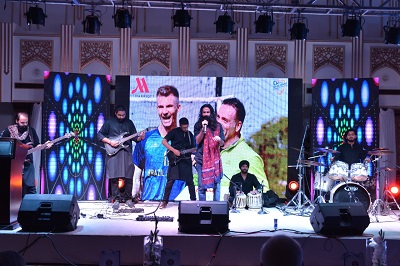 Gerry's Diplomatic Football League is the only platform that provides a healthy activity and brings people from different parts of the world closer through the lovely game football for a joyful time, especially for diplomatic community residing in Pakistan to shows them the soft image of our country Pakistan. In the end awards were distributed among the sponsors of the League who contributed to make the league successfully.