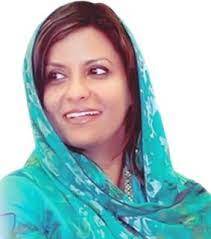 Islamabad: Pakistan People's Party central leader and National Assembly member Dr Nafisa Shah has termed the statement of federal minister Fawad Chaudhry regarding Election Commission as an attack on the Election Commission.
She said that PPP fully supports legislations through parliament for transparent elections. Dr Nafisa Shah said that no one would be allowed to issue ordinances and bulldoze bills illegally under the guise of legislation. The Election Commission has exposed the efforts of an incompetent government to weaken the electoral system. By making such statements against the Election Commission, Fawad Chaudhry is trying to weaken the Election Commission by making such statements.
Dr Nafisa Shah said that the Election Commission is an independent and constitutional body. The PPP stands with the Election Commission and other Pakistanis.
She said that if the incompetent government had the intention to give the right to vote to overseas Pakistanis, the legislation would have been enacted in a transparent manner instead of issuing ordinances in the darkness of the night. Imran Khan has always kept an eye on the pockets of other Pakistanis and has used them for donations. Imran Khan now wants to collect more money from them.