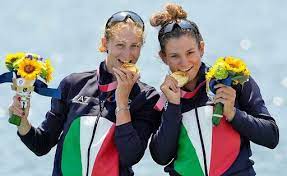 Rome: Italian champion rowers Federica Cesarini and Valentina Rodini won a gold medal in the women's lightweight double sculls rowing at the Tokyo 2020 Olympics on Thursday.
It was Italy's second gold medal after the victory of Vito dell'Aquila in the 58 kg Taekwondo on Saturday.
Stefano Oppo and Pietro Willy Ruta also took bronze for Italy in the men's competition of the lightweight double sculls rowing.
Italian swimmer Gregorio Paltrinieri bounced back against the odds to win a silver medal in the 800m freestyle after missing a month's worth of training to recover from a bout of mononucleosis.
In the women's team foil competition, Italy hammered the US 45-23 with the trio of Arianna Errigo, Martina Batini and Alice Volpi taking home bronze.
Meanwhile San Marino, the tiny landlocked sovereign state within northern Italy, won its first ever Olympic medal with Alessandra Perilli taking bronze in the women's trap shooting.
The Azzurri also took silver in the men's 100m freestyle swimming relay, thanks to the combined efforts of Alessandro Miressi, Thomas Ceccon, Lorenzo Zazzeri and Manuel Frigo.
Earlier in the week shooter Diana Bacosi took silver in the women's skeet as did Daniele Garozzo in the individual foil fencing, while Nicolò Martinenghi won bronze in the 100m breaststroke final.