Italy: Roberto Benigni wins Lifetime Achievement Award at Venice Film Festival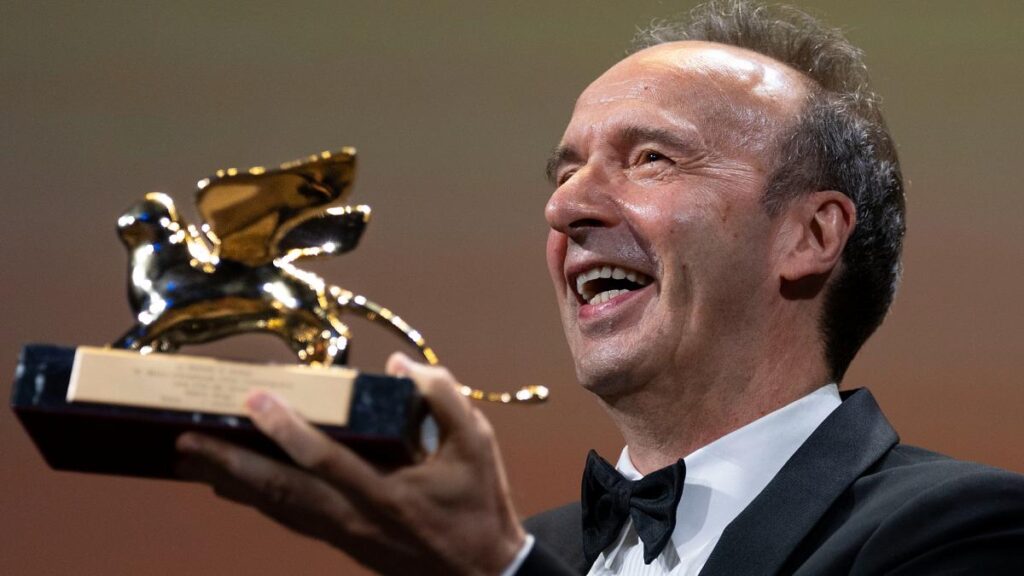 Venice: Roberto Benigni, the legendary Italian comedian, actor and director, won a Golden Lion lifetime achievement award at last night's opening of the Venice Film Festival.
Accepting the Leone d'Oro award, the 68-year-old Benigni joked that he was not worthy of a lion, saying he deserved a kitten instead.
True to form, Benigni gave a high-octane 'Thank You' speech, declaring his eternal love for his wife, muse and long-term artistic collaborator Nicoletta Braschi.
Best known for the Oscar-winning La vita è bella (Life is Beautiful), Benigni said:"I can't dedicate this award to Nicoletta because it is already her's."
"We have done everything together for 40 years" – he said, gazing at his wife in the audience – "I only know one way to measure time: with you and without you."
Benigni went on to joke that he'd be happy to take just the lion's tail, insisting that the wings belonged to his wife because anything that ever "took off" in his career was thanks to her.
He also had high praise for the president of Italy, Sergio Mattarella, who arrived at the festival earlier in the evening to a standing ovation.
Declaring his fondness for the "wonderful" head of state, whose term is coming to an end, Benigni said: "I would like to kiss him, hug him", before imploring the president to "stay on for another few years."