Italy: The best art on show at the Venice Biennale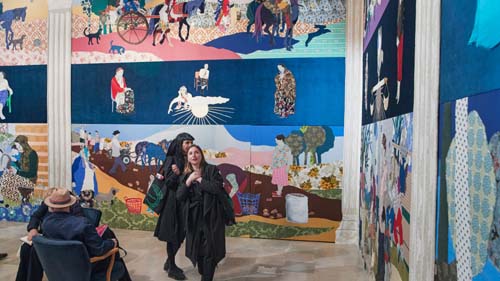 Venice: The recently opened Venice Biennale — an 8-month-long international festival of art and culture staged every other year (though it skipped 2021 due to the pandemic) — is an opportunity to see some of the world's best artists all in one place.
The event, with origins dating back to 1895, is formed of three parts: The central show, housed in a series of sprawling industrial buildings in an old dockyards area known as Arsenale, and in the main pavilion of the Giardini della Biennale; the national pavilions, most of which are in the Giardini which is home an architectural mismash of houses built in historical and modern styles from 29 countries including the UK, France, Japan, Brazil and the US; and finally, a series of satellite or "collateral" exhibitions and pop-up events dotted throughout the city.
Each year, an artistic director is appointed to curate the central exhibit which in many ways sets the tone for the whole festival. This time the privilege went to Italy's own Cecilia Alemani whose day job is to run the art programme for Manhattan's High Line in New York. Her Venice show titled "The Milk of Dreams," was inspired by a children's book of the same name by the late artist and author Leonora Carrington. In tribute to the surrealist picture-book, the exhibit is filled with wonderfully implausible treasures; it is also a robust tribute to women in art. In a complete flip-reversal of the norm, in the over 200 artists included, it's often difficult to spot the work of a man.
It's a vast, occasionally overwhelming, display of art. And to enjoy even a small portion of the delights on offer, a plan is needed. This writer walked over 10 miles a day in an effort to canvas the city and still left feeling as though more could have been seen.
So give yourself at least two days if you can, pack your most comfortable shoes and don't forget to hydrate.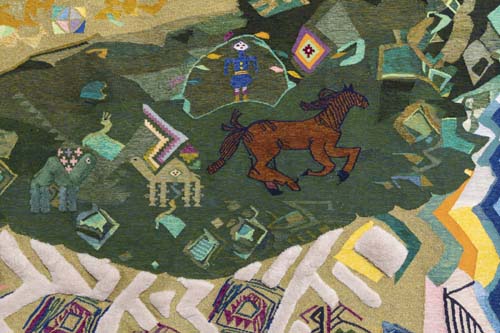 It all begins with getting your ticket from the main Arsenale ticket office (or on the website). Once you're armed with that all important barcode, start the day at Alemani's "The Milk of Dreams" exhibit which you can access via Ramo de la Tana.
If you smell a hint of chocolate in the air it's because you're nearing Delcy Morelos' "Earthly Paradise" (2022), a deeply immersive maze made of soil mixed with hay cassava flour, warming spices and cacao powder. Stand in the center of the installation and breathe.
Once you're suitably grounded, move onwards to seek out a series of black and white photos from the early 20th century starring a wonderfully curious German Baroness called Elsa von Freytag-Loringhoven. Despite the title, she was not wealthy. Ending up footloose and fancy free in New York in the 1910s she would pose for artists and perform as a soubrette (a fun and flirtatious character role in plays and operas) in various Greenwich Village clubs. Friends with Marcel Duchamp, she became legendary on the Dada art scene. In the photos on display, she's seen pulling bizarre poses using props and accessories she apparently stole or found in the garbage. What a woman.
Around the corner, take a moment to inspect three sculptures by Lebanese artist Ali Cherri. The 'Titans" are crafted from terracotta, wood and metal and are inspired by ancient protective deities. Also nearby are a set of colorful tapestries by Safia Farhat, a Tunisian artist and activist. The layered and collagelike works are a luscious blend of geometric shapes and more figurative forms.
After you've made it through the exhibition, circle back on some of the temporary national pavilions that are also housed in this industrial quarter. On the second floor of one of the first clusters of buildings near the entrance of the main exhibit, you'll find the work of Ukrainian artist Pavlo Makov. Sit on the curved bench in front of his "Fountain of Exhaustion" and read this while you reflect on the strength of artists during times of crisis.
Once you're ready for more, head out toward the Italian pavilion which is a few minutes walk away. En route you'll walk past New Zealand's area, where a series of striking photos by Pacific Indigenous artist Yuki Kihara challenge old colonial ideas of paradise. You can read more about her work here.
Given where you are, it would be rude not to visit Italy's pavilion. Spread across some 20,000 square feet, the space was given to site-specific installation artist Gian Maria Tosatti who presented a series of scenes — bringing in disused factory equipment, such as abandoned industrial-quality sewing machines — that allude to the rise and fall of industrial Italy.