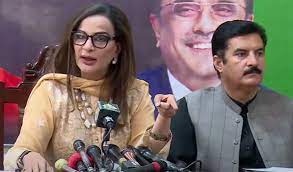 Islamabad, Monday 5th September 2022, Federal Minister Senator Sherry Rehman responded to Imran Khan's public meeting on Sunday that called the nation for yet another political jamboree during one of the most difficult times in history that Pakistan is experiencing.
She critiqued Imran Khan's complete myopia regarding the floods that have devastated 70% of the country, "It seems like the PTI's chairman only wants to advance his polarizing political agenda while being obtuse about the floods that not only national, but even the international community is concerned about. In yet another one of his public meetings Imran Khan is seen accusing the PPP and PMLN of taking concessions by installing their 'favorite' army chief. PTI continuously blames the security agencies. The accusation of installing an army chief that would 'protect' PPP and PMLN is a dangerous one.
These controversial statements instill hatred and chaos against these security agencies and worsens the political stability in the country. Imran Khan could not prove the cases of treason and concession even after keeping the opponents in prison for 2 years so why is he still hellbent on accusing them after all this time? And citing his corrupt Billion Tree Tsunami project that is still being investigated as an initiative to curb climate change simply works against his favor. The PTI chairman has skewed priorities. There are 33 million people affected by the floods, thousands rendered homeless or displaced. Towns and villages have been submerged too but here stands a lone man, in his absolute blindness to Pakistan's plight, without realizing or understanding the time and place for things. Is his ego and politics bigger than people's lives? He has announced yet another telethon, asking the nation to be ready to be "on the streets to ask for re-elections", to start a revolution, and essentially bring more chaos to the country.
"With the mission to keep his narrative alive, Imran Khan is focusing on politicking and ignoring the affected. The people of South Punjab are waiting under the naked sky for rescue and relief, but the helicopter of the Punjab government is giving pick and drop to Imran Khan from Bani Gala to Jalsa Gah. Everything PTI seems to be doing is in poor taste, and shows just how much they care about Pakistan and people's lives"