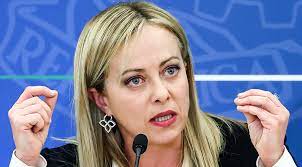 Rome: The Italian prime minister has publicly slammed France for its hypocritical approach to the issue of migrants coming from Africa, which has been a bone of contention between the two countries during past weeks, by exposing Paris' colonial policy in Burkina Faso.
Giorgia Meloni, who was speaking in a televised interview, made the remark while showing a picture of a child working in a gold mine in Burkina Faso, which is one of the poorest countries in the world.
She said France prints colonial gold money for the country, but "in return demands that 50 percent of everything that Burkina Faso exports end up in the coffers of the French treasury."
"The gold that this child goes down a tunnel to extract, mostly ends up in the coffers of the French state," the Italian prime minister said.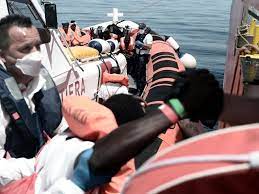 Meloni added, "So, the solution [to the migrant issue] is not to take the Africans and bring them to Europe. The solution is to free Africa from certain Europeans who exploit it and allow this people to life off what they have."
A rescue ship carrying 230 refugees docks at a French port amid rising tensions between France and Italy over which country is responsible for them.
Meloni's remarks came at a time that France has been mounting verbal attacks on Italy after officials in Rome decided to prevent migrants aboard a vessel called the Ocean Viking from disembarking on the country's soil.
Following the decision, France said it will allow the ship, which was transporting more than 200 refugees, to dock at its southern coast, with Interior Minister Gerald Darmanin saying the Ocean Viking, whose passengers included 57 children, would be granted access to the military port of Toulon.
Darmanin said the right-wing Italian government's ban on the vessel, which had been stuck off Sicily for days, was "reprehensible" and "selfish."
Apparently angered by Rome's refusal to accept the ship, Darmanin labeled Italy's stance "incomprehensible."
The question of how to handle migration in the largely border-free European Union has been a bone of contention for years.
The ship "is located without any doubt in Italy's search and rescue zone," the minister said. "It was Italy's job to immediately designate a port to welcome this ship."
Darmanin warned that "it is obvious that there will be extremely severe consequences for bilateral relations" with Italy.
More than two dozen unaccompanied underage migrants aboard the controversial Ocean Viking refugee rescue ship have gone missing from their reception center, authorities said on Thursday.
The French-Italian feud is the latest episode in a European standoff over where to disembark refugees picked up after trying to reach Europe from North Africa.
Italian Interior Minister Matteo Piantedosi said on November 10 that "France's reaction to the request to take in 234 migrants, while Italy has taken in 90,000 this year alone, is totally incomprehensible in the face of constant calls for solidarity."
Italy's Foreign Minister Antonio Tajani also said Rome wants "an agreement to establish, on the basis of population, how migrants with a right to asylum are relocated to various countries."
Italy, along with Spain, hosts most boats transporting migrants. Only 164 of the virtually 90,000 migrants who have reached Italy this year have so far been relocated to other EU states.